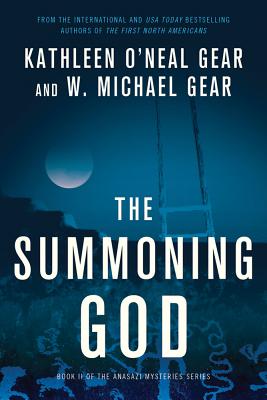 The Summoning God (Anasazi Mysteries #2) (Paperback)
Tor Books, 9780765330444, 461pp.
Publication Date: March 13, 2012
Description
Available in trade paperback for the first time, the second book in the Anasazi Mysteries series by the bestselling authors and archaeologists Kathleen O'Neal Gear and W. Michael Gear
Archaeologist Dusty Stewart is stunned when he uncovers an ancient Anasazi kiva, a ceremonial chamber, filled with the burned bodies of thirty-three children and two adults. Desperate to understand what happened at this small pueblo in A.D. 1263, Dusty calls in his archnemesis, Dr. Maureen Cole, hoping she can help him unravel the mystery of this tragedy.
Across the thin veil of time, the Katsinas People walk the same trails, touch the same objects--and are stalked by a serial murderer. He is a holy warrior, fighting for a dying god, and his brutality knows no bounds. But who is he? And how can they stop him?
About the Author
KATHLEEN O'NEAL GEAR is a former state historian and archaeologist for Wyoming, Kansas, and Nebraska for the U.S. Department of the Interior. She has twice received the federal government's Special Achievement Award for "outstanding management" of our nation's cultural heritage.W. MICHAEL GEAR, who holds a master's degree in archaeology, has worked as a professional archaeologist since 1978. He is currently principal investigator for Wind River Archaeological Consultants.The Gears, whose First North American Series hit the international as well as USA Today and New York Times bestseller lists, live in Thermopolis, Wyoming.
Praise For The Summoning God (Anasazi Mysteries #2)…
"At heart a murder mystery. All questions are answered, but the evil remains. After twenty-six novels, the Gears know how to leave themselves enough rope for another volume."
—Kirkus Reviews on The Summoning God "Breathtaking descriptions evoke the harsh beauty of the desert, while the lucid, erudite historical perspectives are informed by the authors' own extensive archaeological experience."
—Publishers Weekly on The Visitant
Advertisement