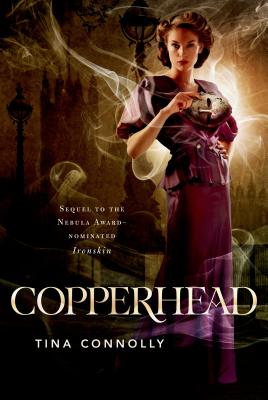 Copperhead (Hardcover)
Tor Books, 9780765330604, 318pp.
Publication Date: October 15, 2013
Other Editions of This Title:
Paperback (9/23/2014)
* Individual store prices may vary.
Description
Set in an alternate version of early 1900s England, "Copperhead" is the sequel to Tina Connolly's stunning historical fantasy debut.
Helen Huntingdon is beautiful so beautiful she has to wear an iron mask.
Six months ago her sister Jane uncovered a fey plot to take over the city. Too late for Helen, who opted for fey beauty in her face and now has to cover her face with iron so she won't be taken over, her personality erased by the bodiless fey.
Not that Helen would mind that some days. Stuck in a marriage with the wealthy and controlling Alistair, she lives at the edges of her life, secretly helping Jane remove the dangerous fey beauty from the wealthy society women who paid for it. But when the chancy procedure turns deadly, Jane goes missing and is implicated in a murder.
Meanwhile, Alistair's influential clique Copperhead whose emblem is the poisonous copperhead hydra is out to restore humans to their "rightful" place, even to the point of destroying the "dwarvven" who have always been allies.
Helen is determined to find her missing sister, as well as continue the good fight against the fey. But when that pits her against her own husband and when she meets an enigmatic young revolutionary she's pushed to discover how far she'll bend society's rules to do what's right. It may be more than her beauty at stake. It may be her honor...and her heart.
About the Author
TINA CONNOLLY lives with her family in Portland, Oregon, in a house that came with a dragon in the basement and blackberry vines in the attic. Her stories have appeared all over, including in Strange Horizons, Lightspeed, and Beneath Ceaseless Skies. She is a frequent reader for Podcastle, and narrates the Parsec-winning flash fiction podcast Toasted Cake. In the summer she works as a face painter, which means a glitter-filled house is an occupational hazard.
Praise For Copperhead…
Praise for Ironskin

"This is an astonishing book: an evocative re-imagination of Jane Eyre that concerns itself with beauty, love, and social upheaval. This lyrical and utterly marvelous debut is one of the standout books of the year."—RT Book Reviews, 4 ½ Stars, Top Pick!

"Connolly has created a complex and well-drawn world here, and the story is indeed an original and imaginative take on the gothic-fiction tradition. An intriguing and ambitious fantasy tale."—Kirkus Reviews

"All the romance, mystery, and horror that a good gothic story needs."—Portland Monthly

"Jane is ferocious and splendid; the hero is tormented and tragic. Tina Connolly has crafted a steampunk Beauty and the Beast tale, beautifully and cleverly reversed. Don't miss this debut."—Ann Aguirre, national bestselling author of Enclave

"A lyrical, beautifully crafted debut. A haunting exploration of the true price one must pay for magic, beauty, and love, Ironskin will stay with me for a long time to come."—M.K. Hobson, author of The Native Star

"Clever and romantic at the same time—no mean feat. A magical and entertaining waltz across the fairy forests and dark moors just a sideways step or two from Haworth Parsonage."—Ian R. MacLeod, author of Wake Up and Dream

"A gothic, eerie, and pitch-perfect retelling of Jane Eyre, in which the moors are haunted by menacing fae and the hero's secrets are steeped in magic. Ironskin kept me up past my bedtime and stayed with me long after the last page was turned."—Leah Cypess, author of Mistwood

"Connolly provides plenty of discussion of fashion, courtship, and marriage for fans of Victorian gothics."—Publishers Weekly
or
Not Currently Available for Direct Purchase