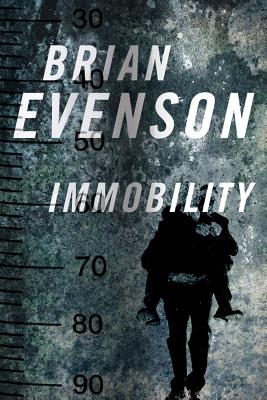 Immobility
Paperback

* Individual store prices may vary.
Other Editions of This Title:
Hardcover (4/10/2012)
Compact Disc (4/1/2012)
Compact Disc (8/14/2012)
Description
From the award-winning author Brian Evenson comes Immobility, a far-future thriller that looks at a post-human world struggling to stay human

When you open your eyes things already seem to be happening without you. You don't know who you are and you don't remember where you've been. You know the world has changed, that a catastrophe has destroyed what used to exist before, but you can't remember exactly what did exist before. And you're paralyzed from the waist down apparently, but you don't remember that either.

A man claiming to be your friend tells you your services are required. Something crucial has been stolen, but what he tells you about it doesn't quite add up. You've got to get it back or something bad is going to happen. And you've got to get it back fast, so they can freeze you again before your own time runs out.

Before you know it, you're being carried through a ruined landscape on the backs of two men in hazard suits who don't seem anything like you at all, heading toward something you don't understand that may well end up being the death of you.

Welcome to the life of Josef Horkai….
Praise For Immobility…
"Immobility's bleak landscape and doubting yet relentless protagonist display Brian Evenson, one of our best and bravest novelists, at his most probing and mordant. The book might almost be the product of a collaboration between the younger Samuel Beckett and the mid-career Buster Keaton. No one else in America is writing like this, and no one but he possesses Evenson's ravishing, diamond-like focus." —Peter Straub, New York Times bestselling author of A Dark Matter

"Evenson is stunning, a postapocalyptic Dashiell Hammett, in this blistering tale. I read Immobility from cover to cover without stirring from my chair, and I imagine most readers will share that fate." —Jesse Ball, Plimpton Prize–winning author of The Curfew

"Brian Evenson is one of the treasures of American story writing." —Jonathan Lethem, New York Times bestselling author of Chronic City

"There is not a more intense, prolific or apocalyptic writer of fiction in America than Brian Evenson." —George Saunders, New York Times bestselling author of The Braindead Megaphone

"Brian Evenson is one of the most distinguished, probing, and courageous writers of his generation." —Bradford Morrow, O. Henry Prize–winning author of Diviner's Tale
Tor Books, 9780765330970, 256pp.
Publication Date: April 9, 2013
About the Author
BRIAN EVENSON is the author of a dozen books of fiction, including the story collections A Collapse of Horses (Coffee House Press, 2016), Windeye (Coffee House Press 2012) and the novel Immobility (Tor 2012), the latter two of which were finalists for a Shirley Jackson Award. His novel Last Days won the American Library Association's award for Best Horror Novel of 2009). His novel The Open Curtain (Coffee House Press) was a finalist for an Edgar Award and an International Horror Guild Award.