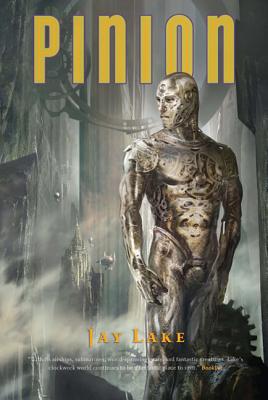 Pinion (Clockwork Earth #3) (Paperback)
Tor Books, 9780765331083, 352pp.
Publication Date: June 21, 2011
Other Editions of This Title:
Hardcover (3/30/2010)
* Individual store prices may vary.
Description
Rejoin the adventure in the third novel of Lake's Clockwork Earth series. Paolina Barthes, young sorceress, is crossing the Equatorial Wall, attempting to take herself and her magic away from the grasp of powerful men in the empires of the north. Emily Childress is still aboard the renegade Chinese submarine, along with her devoted Captain, and the British chief petty officer Angus al-Wazir. They are all being sought most urgently by the powers that secretly rule the Northern Earth--the Silent Order and the White Birds. And a third power, of the Southern Earth, has its eye on Paolina; she will not be allowed to bring the political turmoil of the North into the more mystical South.
About the Author
Jay Lake was a prolific writer of science fiction and fantasy, as well as an award-winning editor, a popular raconteur and toastmaster, and an excellent teacher at the many writers' workshops he attended. His novels included Tor's publications Mainspring, Escapement, and Pinion, and the trilogy of novels in his Green cycle - Green, Endurance, and Kalimpura. Lake was nominated multiple times for the Hugo Award, the Nebula Award, and the World Fantasy Award. He won the John W. Campbell Award for best new writer in 2004, the year after his first professional stories were published. In 2008 Jay Lake was diagnosed with colon cancer, and in the years after he became known outside the sf genre as a powerful and brutally honest blogger about the progression of his disease. Jay Lake died on June 1, 2014.
Praise For Pinion (Clockwork Earth #3)…
"Political conflicts and philosophical arguments find closure at last in this splendidly baroque whirl of geomancy and Victorian clockwork...Lake wields big themes—magic and religion versus science, free will, colonialism, and a bit of romance—with surprising elegance, and readers will enjoy cherishing the characters and pondering the concepts of this "clockpunk" world. –Publishers Weekly, starred review, on Pinion"The delight is in what's seen en route, as Lake has configured his world-dominating empires, one British, the other Chinese, with huge and devoted attention to the last detail. The delight of the next volume--prefigured with unrelenting clarity in Escapement's final pages--should be the discovery that the destination adds up." —Washington Post Book World on Escapement
"The delight is in what's seen en route, as Lake has configured his world-dominating empires, one British, the other Chinese, with huge and devoted attention to the last detail. The delight of the next volume--prefigured with unrelenting clarity in Escapement's final pages--should be the discovery that the destination adds up." —Washington Post Book World on Escapement
"The very cosmology of this world is an enigmatic astonishment, and it underpins every single bit of action and character...Fantasy has always been "escapist" in the best sense of the word, and Lake engineers a fine tale of humans in search of liberation from the clockwork and customs that ensnare them and us as well." —Sci-Fi Weekly on Escapement