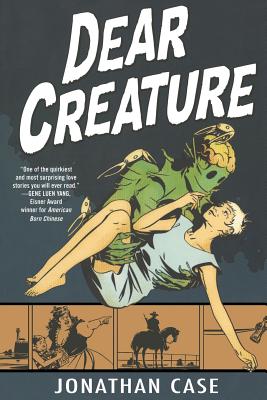 Dear Creature
Paperback

* Individual store prices may vary.
Other Editions of This Title:
Hardcover (10/11/2016)
Description
Deep beneath the waves, a creature named Grue broods. He no longer wants to eat lusty beachgoers, no matter how their hormones call to him. A chorus of crabs urges him to reconsider. After all, people are delicious But this monster has changed. Grue found Shakespeare's plays in cola bottles and, through them, a new heart. Now he yearns to join the world above.
When his first attempt ends... poorly, Grue searches for the person who cast the plays into the sea. What he finds is love in the arms of Giulietta a woman trapped in her own world. When she and Grue meet, Giulietta believes her prayers are answered. But people have gone missing and Giulietta's nephew is the prime suspect. With his past catching up to him, Grue must decide if becoming a new man means ignoring the monster he was.
Rising from a brine of drive-in pulp and gentle poetry, Jonathan Case's debut graphic novel "Dear Creature" is the love story you never imagined
Praise For Dear Creature…
"Dear Creature is sure to be one of the quirkiest and most surprising love stories you will ever read." —Gene Yang, Eisner Award–winner for American Born Chinese
"Every panel is beautifully composed….Case mastered it on his first project."  —Steve Lieber, Eisner Award–winner for Whiteout: Melt
"An impressive debut. I dream of a world where every cartoonist's first graphic novel is this accomplished."  —Derek Kirk Kim, Eisner Award–winner for The Eternal Smile
Tor Books, 9780765331113, 189pp.
Publication Date: October 11, 2011
About the Author
JONATHAN CASE writes and draws books in Portland, Oregon, as a member of Periscope Studio, the largest cooperative of comics creators in America. His work is featured in the Eisner award-winning Comic Book Tattoo, and has been lauded as some of the best show of new talent in comics. Dear Creature is Jonathan Case's first book. jonathancase.net
or
Not Currently Available for Direct Purchase