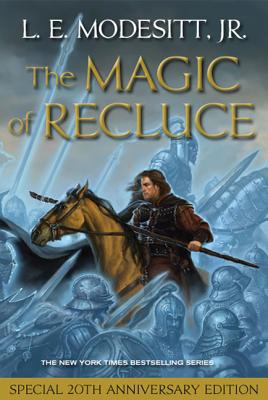 The Magic of Recluce (Saga of Recluce #1)
Paperback

* Individual store prices may vary.
Other Editions of This Title:
Mass Market (10/30/2018)
Compact Disc (7/1/2013)
Mass Market (5/15/1992)
MP3 CD (7/1/2013)
Hardcover (8/1/2011)
Compact Disc (7/1/2013)
Description
L.E. Modesitt, Jr.'s The Magic of Recluce begins his bestselling fantasy series the Saga of Recluce, which is one of the most popular in contemporary epic fantasy.

Young Lerris yearns to find a place in the world better suited to his skills and temperament. In Recluce this means taking one of two options: permanent exile from Recluce or the dangergeld, a complex, rule-laden wanderjahr in the lands beyond. Many do not survive.

Lerris chooses dangergeld.

Lerris will need magic in the lands beyond, where the power of the Chaos Wizards reigns unchecked, and he must learn to use his powers in an orderly way before his wanderjahr, or fall prey to Chaos.

Saga of Recluce

#1 The Magic of Recluce / #2 The Towers of Sunset / #3 The Magic Engineer / #4 The Order War / #5 The Death of Chaos / #6 Fall of Angels / #7 The Chaos Balance / #8 The White Order / #9 Colors of Chaos / #10 Magi'i of Cyador / #11 Scion of Cyador / #12 Wellspring of Chaos / #13 Ordermaster / #14 Natural Order Mage / #15 Mage-Guard of Hamor / #16 Arms-Commander / #17 Cyador's Heirs / #18 Heritage of Cyador /#19 The Mongrel Mage / #20 Outcasts of Order / #21 The Mage-Fire War (forthcoming)

Story Collection: Recluce Tales

Other Series by L.E. Modesitt, Jr.
The Imager Portfolio
The Corean Chronicles
The Spellsong Cycle
The Ghost Books
The Ecolitan Matter
Praise For The Magic of Recluce (Saga of Recluce #1)…
"Extremely interesting…unique…a refreshing use of the traditional fantasy elements." —Andre Norton

"An intriguing fantasy in a fascinating world, with characters that catch you up. Modesitt presents an interesting study of Chaos versus Order, Good versus Evil…and the attractions each of them has for all of us." —Robert Jordan
Tor Books, 9780765331120, 464pp.
Publication Date: June 21, 2011
About the Author
L. E. Modesitt, Jr., is the bestselling author of the fantasy series The Saga of Recluce, Corean Chronicles, and the Imager Portfolio. His science fiction includes Adiamante, the Ecolitan novels, the Forever Hero Trilogy, and Archform: Beauty. Besides a writer, Modesitt has been a U.S. Navy pilot, a director of research for a political campaign, legislative assistant and staff director for a U.S. Congressman, Director of Legislation and Congressional Relations for the U.S. Environmental Protection Agency, a consultant on environmental, regulatory, and communications issues, and a college lecturer. He lives in Cedar City, Utah.