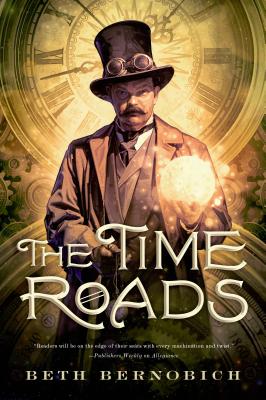 The Time Roads (Paperback)
Tor Books, 9780765331250, 302pp.
Publication Date: October 14, 2014
* Individual store prices may vary.
or
Not Currently Available for Direct Purchase
Description
A fantastical nineteenth century alternate historical steampunk romp from Beth Bernobich, the critically acclaimed author of the River of Souls trilogy.
Eire is one of the most powerful empires in the world. The Anglian Dependencies are a dusty backwater filled with resentful colonial subjects, Europe is a disjointed mess, and many look to Eire for stability and peace. In a series of braided stories, Beth Bernobich has created a tale about the brilliant Eireann scientists who have already bent the laws of nature for Man's benefit. And who now are striving to conquer the nature of time.
The Golden Octopus: Aine Lasairiona Devereaux, the young Queen of Eire, balances Court politics while pursing the Crown's goals of furthering scientific discovery. When those discoveries lead to the death and madness of those she loves, Aine must choose between her heart and her duty to her kingdom.
A Flight of Numbers Fantastique Strange: Siomon Madoc is desperately trying to discover who is killing the brightest of Eire's mathematicians. The key to saving lives lies in the future...and Siomon must figure out a way to get there.
Ars Memoriae: Eireann spymaster Aidrean O Deaghaidh goes to the kingdom of Montenegro to investigate rumors of great unrest. But O Deaghaidh is tormented by visions of a different timeline and suspects that someone in his own government is playing a double game....
The Time Roads: Eire stands on the brink of the modern age, but old troubles still plague the kingdom. An encounter with a mysterious stranger near death holds the clue to both the past and the future of the nation.
About the Author
Beth Bernobich is the author of three novels in her River of Souls series. The first novel, PASSION PLAY, earned her a coveted Romantic Times Book Award for Best Epic Fantasy in 2010 and Publishers Weekly called the second book, QUEEN'S HUNT, "A masterful story of romance, honor, suspense, with plenty of history, geography, and mythology thrown in for good measure." Bernobich lives with her husband and son in Connecticut.
Advertisement