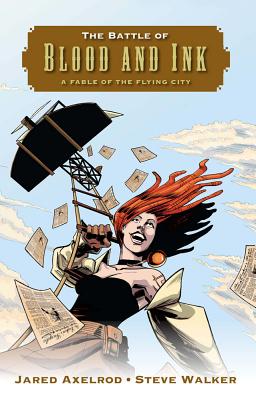 The Battle of Blood and Ink (Hardcover)
A Fable of the Flying City
Tor Books, 9780765331304, 144pp.
Publication Date: May 8, 2012
Other Editions of This Title:
Paperback (4/2/2013)
* Individual store prices may vary.
Description
If you're visiting the flying city of Amperstam without the latest printing of "The Lurker's Guide," you might as well be lost. This one-sheet is written, edited, and printed by Ashe, a girl raised on the streets of the flying city, and is dedicated to revealing its hidden treasures and deepest secrets--including many that the overcontrolling government doesn't want anyone to know. The stakes are raised when Ashe accidentally uncovers the horror of exactly how Amperstam travels among the skies and garners the attention of those who would rather that secret be kept in the hands of the city's powerful leaders.
Soon Ashe is on the run from thugs and assassins, faced with the choice of imperiling her life just to keep publishing, or giving in to the suggestion of a rich patron that she trade in her voice and identity for a quiet, comfortable life. It's a war of confusion for Ashe, but in "The Battle of Blood and Ink "by Jared Axelrod, one thing is very clear: just because you live in a flying city, you can't always keep your head in the clouds.
About the Author
JARED AXELROD is an author, illustrator, costume designer, and podcaster. He is a founding member of 365 Tomorrows, and the writer and producer of several podcasts, including "Fables of the Flying City," a set in the world of "The Battle of Blood and Ink." He lives in Philadelphia.

STEVE WALKER illustrated the graphic novel "Sons of Liberty "by Alexander Lagos and Joseph Lagos. He has done work for Image Comics and has been featured in "Dr. Sketchy's Official Rainy Day Coloring Book." He attends several comic conventions a year, where he sells commissioned drawings of superheroes. Walker lives in Philadelphia.
Praise For The Battle of Blood and Ink: A Fable of the Flying City…
"The Battle of Blood and Ink is a great read. Engaging heroine, sinister adversary, mysterious sky captain, intriguing world, fascinating setting—all taking flight in the first dozen pages. I very much want to see what happens next and where the story leads, not just for this volume but many more to come. Bravo, Axelrod and Walker!" —Chris Claremont, award-winning writer of Uncanny X-Men
or
Not Currently Available for Direct Purchase