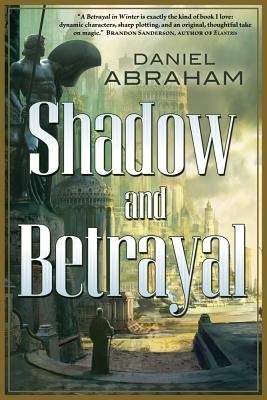 Shadow and Betrayal (Long Price Quartet) (Paperback)
Orb Books, 9780765331649, 523pp.
Publication Date: March 27, 2012
Description
A value-priced omnibus of the first two novels of Daniel Abraham's classic Long Price Quartet--groundbreaking, unique fantasy of rare power and originality
In this omnibus edition of A Shadow in Summer and A Betrayal in Winter, the aggressively expansionist Galt empire has already conquered lands across a huge continent. But the cities of the Khaiem resist Galt's power with the andat--creatures of magic with godlike powers.
Each andat is brought into being by a "poet" who must say the right words and exert the iron will needed to control gods. The industrialized Galt war machine is helpless against the powers of the andat...but political intrigue and deep treachery combine to shift the balance of power in a world of ancient empires and immortal magics.
One man, Otah Machi, stands at the crossroads of history in these imaginary world fantasies, the fulcrum around which the wheels of epic history rotate through achingly poignant cycles of life and death, love and betrayal.
Shadow and Betrayal marks Daniel Abraham as one of today's most brilliantly original young fantasy writers.
About the Author
DANIEL ABRAHAM won the International Horror Guild Award for his short story "Flat Diane." He has been short-listed for the Hugo and World Fantasy Awards. His most recent novel is The Dragon's Path. He lives in New Mexico.
Praise For Shadow and Betrayal (Long Price Quartet)…
"A Betrayal in Winter is exactly the kind of book I love: dynamic characters, sharp plotting, and an original, thoughtful take on magic."
—Brandon Sanderson, bestselling author of The Way of Kings
"Daniel Abraham's spectacular debut [A Shadow in Summer] begins as an intimate story about one man's involvement in an unsavory job but soon expands into a breathtakingly complex conspiracy that could topple empires and kill thousands. In a word: Brilliant!"
—Barnesandnoble.com, Editor's Choice: Top Ten Novels of 2006
"An impressive start."  —Kirkus Reviews
"An ambitious, intelligent, and assured debut that should satisfy both readers hungry for the satisfactions of traditional fantasy and readers hungry for something more."
—Science Fiction Weekly on A Shadow in Summer
Advertisement