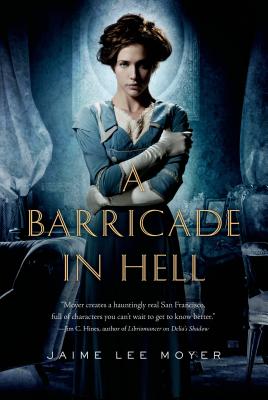 A Barricade in Hell (Hardcover)
Tor Books, 9780765331830, 331pp.
Publication Date: June 3, 2014
Other Editions of This Title:
Paperback (9/1/2017)
* Individual store prices may vary.
Description
In Jaime Lee Moyer's "A Barricade in Hell, "Delia Martin has been gifted (or some would say cursed) with the ability to peer across to the other side. Since childhood, her constant companions have been ghosts. She used her powers and the help of those ghosts to defeat a twisted serial killer terrorizing her beloved San Francisco. Now it's 1917 the threshold of a modern age and Delia lives a peaceful life with Police Captain Gabe Ryan.
That peace shatters when a strange young girl starts haunting their lives and threatens Gabe. Delia tries to discover what this ghost wants as she becomes entangled in the mystery surrounding a charismatic evangelist who preaches pacifism and an end to war. But as young people begin to disappear, and audiences display a loyalty and fervor not attributable to simple persuasion, that message of peace reveals a hidden dark side.
As Delia discovers the truth, she faces a choice take a terrible risk to save her city, or chance losing everything?
About the Author
JAIME LEE MOYER's Delia's Shadow won the 2009 Columbus Literary Award for Fiction. Moyer has sold short fiction to Lone Star Stories, Daily Science Fiction, and to the Triangulations: End of the Rainbow, and Triangulations: Last Contact anthologies, and edited the 2010 Rhysling Award Anthology for the Science Fiction Poetry Association. Moyer lives in San Antonio with writer Marshall Payne, three cats, three guitars, and a growing collection of books and music.
Praise For A Barricade in Hell…
Praise for Delia's Shadow:
"Moyer creates a hauntingly real San Francisco, full of characters you can't wait to get to know better. Delia's Shadow is an engaging debut novel, one that cost me a good night's sleep." —Jim C. Hines, author of Libriomancer
"Like fog creeping in from the Bay, this ghostly, romantic tale of San Francisco past made the outside world disappear and sent shivery tendrils into my soul. A gorgeous and haunting book." —Rae Carson, author of The Girl of Fire and Thorns
"Haunting and sweet, Delia's Shadow pulls off the rare feat of combining a thrilling ghost story with a gentle romance." —S. C. Butler, author of Reiffen's Choice
or
Not Currently Available for Direct Purchase