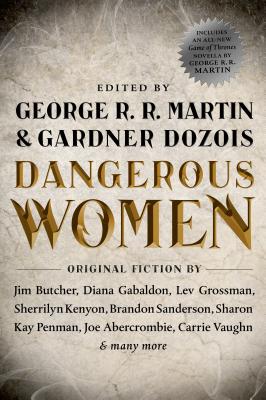 Dangerous Women
Hardcover

* Individual store prices may vary.
Other Editions of This Title:
Paperback (9/15/2015)
Hardcover (11/12/2019)
Mass Market (9/30/2014)
Description
All new and original to this volume, the 21 stories in Dangerous Women include work by twelve New York Times bestsellers, and seven stories set in the authors' bestselling continuities-including a new "Outlander" story by Diana Gabaldon, a tale of Harry Dresden's world by Jim Butcher, a story from Lev Grossman set in the world of The Magicians, and a 35,000-word novella by George R. R. Martin about the Dance of the Dragons, the vast civil war that tore Westeros apart nearly two centuries before the events of A Game of Thrones.

Also included are original stories of dangerous women--heroines and villains alike--by Brandon Sanderson, Joe Abercrombie, Sherrilyn Kenyon, Lawrence Block, Carrie Vaughn, S. M. Stirling, Sharon Kay Penman, and many others.

Writes Gardner Dozois in his Introduction, "Here you'll find no hapless victims who stand by whimpering in dread while the male hero fights the monster or clashes swords with the villain, and if you want to tie these women to the railroad tracks, you'll find you have a real fight on your hands. Instead, you will find sword-wielding women warriors, intrepid women fighter pilots and far-ranging spacewomen, deadly female serial killers, formidable female superheroes, sly and seductive femmes fatale, female wizards, hard-living Bad Girls, female bandits and rebels, embattled survivors in Post-Apocalyptic futures, female Private Investigators, stern female hanging judges, haughty queens who rule nations and whose jealousies and ambitions send thousands to grisly deaths, daring dragonriders, and many more."
Praise For Dangerous Women…
"This meaty collection delivers something for nearly every reader's taste as it explores the heights that brave women can reach and the depths that depraved ones can plumb."—Publishers Weekly

"Everyone will find something to like here." —Kirkus Reviews
Tor Books, 9780765332066, 784pp.
Publication Date: December 3, 2013
About the Author
George R. R. Martin has been a full-time writer for over 25 years. He is the author of the acclaimed, internationally bestselling fantasy series A Song of Ice and Fire, which is the basis of HBO's popular Game of Thrones television series. Martin has won multiple science fiction awards, including 4 Hugos, 2 Nebulas, the Bram Stoker, the Locus Award, the World Fantasy Award, the Daedelus, the Balrog, and the Daikon (Japanese Hugo).

Gardner Dozois (1947-2018), one of the most acclaimed editors in science-fiction, won the Hugo Award for Best Editor 15 times. He was the editor of Asimov's Science Fiction Magazine for 20 years. He also served as the editor of The Year's Best Science Fiction anthologies and co-editor of the Warrior anthologies, Songs of the Dying Earth, and many others. As a writer, Dozois twice won the Nebula Award for best short story. He was inducted into the Science Fiction Hall of Fame in 2011 and received the Skylark Award for Lifetime Achievement. He lived in Philadelphia, Pennsylvania.