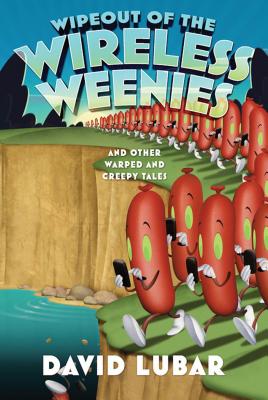 Wipeout of the Wireless Weenies (Hardcover)
And Other Warped and Creepy Tales (Weenies Stories)
Starscape, 9780765332141, 176pp.
Publication Date: April 22, 2014
* Individual store prices may vary.
Description
Wipeout of the Wireless Weenies is the seventh collection of spooky short stories for ages 8 to 12 by the beloved author of the Nathan Abercrombie series, David Lubar. This is the perfect pick for reluctant young readers who like a few chills and a lot of laughs.
Welcome to the Weenie Zone! A boy and his family narrowly escape a zombie apocalypse—or do they? A girl neglects her cat's litter box and finds herself in a heap of trouble. And a group of clicking, scrolling, tapping wireless weenies find themselves on the edge of disaster.
Here are thirty-three hilarious and harrowing stories that will scare you, make you laugh, or see the world in a whole new way. Find out where the author got the idea for each story at the end of the book.
Don't be a weenie. Read these stories. If you dare!
About the Author
David Lubar created a sensation with his debut novel, Hidden Talents, an ALA Best Book for Young Adults. Thousands of kids and educators across the country have voted Hidden Talents onto over twenty state lists. David is also the author of True Talents, the sequel to Hidden Talents; Flip, an ALA Best Book for Young Adults and a VOYA Best Science Fiction, Fantasy and Horror selection; many short story collections including In the Land of the Lawn Weenies, Invasion of the Road Weenies, The Curse of the Campfire Weenies, The Battle of the Red Hot Pepper Weenies, Attack of the Vampire Weenies, Beware the Ninja Weenies, Wipeout of the Wireless Weenies, Strikeout of the Bleacher Weenies, and Extremities; and the Nathan Abercrombie, Accidental Zombie series. Lubar grew up in Morristown, New Jersey, and he has also lived in New Brunswick, Edison and Piscataway, NJ, and Sacramento, CA. Besides writing, he has also worked as a video game programmer and designer. He now lives in Nazareth, Pennsylvania.
Praise For Wipeout of the Wireless Weenies: And Other Warped and Creepy Tales (Weenies Stories)…
"Lubar's sixth Weenies short story collection offers plenty to amuse, spook, and entertain. With supernatural events and creatures, the short and super-short stories are fun, fast-paced reading for Weenies fans and new readers. As usual each story's genesis is appended." —Booklist on Beware the Ninja Weenies
"Whoever thinks the short story is dead, or that kids don't like short stories, hasn't talked to any real live kids and hasn't read the latest in this popular series." —School Library Journal on Attack of the Vampire Weenies
"Bullies and others get their due in this hilarious new collection of 35 warped and creepy tales by the master of the 'weenie' story." —Buffalo News on The Battle of the Red Hot Pepper Weenies
"This book will talk itself right off the shelves, and reluctant readers will devour it." —School Library Journal on The Curse of the Campfire Weenies
"Another cool collection. This would be perfect to read around a campfire--or at any sleepover. They are creepy, but also hilarious." —Detroit Free Press on The Curse of the Campfire Weenies
"Lubar strikes again. Another winning round-up." —Booklist on Invasion of the Road Weenies
or
Not Currently Available for Direct Purchase