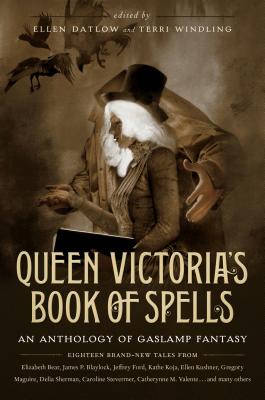 Queen Victoria's Book of Spells (Paperback)
An Anthology of Gaslamp Fantasy
Tor Books, 9780765332271, 350pp.
Publication Date: March 19, 2013
Description
"Gaslamp Fantasy," or historical fantasy set in a magical version of the nineteenth century, has long been popular with readers and writers alike. A number of wonderful fantasy novels owe their inspiration to works by nineteenth-century writers ranging from Jane Austen, the Brontes, and George Meredith to Charles Dickens, Anthony Trollope, and William Morris. And, of course, the entire steampunk genre and subculture owes more than a little to literature inspired by this period.
Queen Victoria's Book of Spells is an anthology for everyone who loves these works of neo-Victorian fiction, and wishes to explore the wide variety of ways that modern fantasists are using nineteenth-century settings, characters, and themes. These approaches stretch from steampunk fiction to the Austen-and-Trollope inspired works that some critics call Fantasy of Manners, all of which fit under the larger umbrella of Gaslamp Fantasy. The result is eighteen stories by experts from the fantasy, horror, mainstream, and young adult fields, including both bestselling writers and exciting new talents such as Elizabeth Bear, James Blaylock, Jeffrey Ford, Ellen Kushner, Tanith Lee, Gregory Maguire, Delia Sherman, and Catherynne M. Valente, who present a bewitching vision of a nineteenth century invested (or cursed ) with magic.
A Kirkus Reviews Best Fiction Book of 2013
About the Author
Multiple award-winning editor ELLEN DATLOW has been editing science fiction, fantasy, and horror short fiction for almost thirty years. She was fiction editor of OMNI magazine and SciFiction and has edited more than fifty anthologies. She lives in New York City. TERRI WINDLING is a writer, artist, and book editor interested in myth, folklore, and fairy tales. She lives in a little village at the edge of Dartmoor in Devon, England.
Praise For Queen Victoria's Book of Spells: An Anthology of Gaslamp Fantasy…
"A superb sampling of urban fantasy.... You will have fun with all twenty stories."
—Booklist on Naked City

"This is a treasure chest. Open it and revel in its riches."
—Kirkus Reviews, starred review on The Faery Reel

"An often sophisticated view of the world [and] a real sense of how powerful nature can be in its various guises."
—School Library Journal on The Green Man

"An enchanting, witty collection of original stories.... This superior volume proves that the notion of modern-day Grimms, Andersens and Wildes isn't just a fairy tale."
—Publishers Weekly on Black Thorn, White Rose
Advertisement