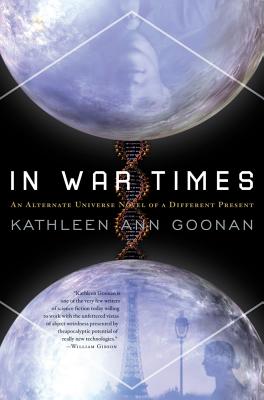 In War Times (Paperback)
An Alternate Universe Novel of a Different Present (Dance Family #1)
Tor Books, 9780765332431, 352pp.
Publication Date: August 21, 2012
Other Editions of This Title:
Hardcover (5/15/2007)
* Individual store prices may vary.
Description
Kathleen Ann Goonan burst into prominence with Queen City Jazz, the start of her Nanotech Quartet. The Bones of Time, her widely acclaimed second novel, was a finalist for the Arthur C. Clarke Award in 2000. In War Times is deeply satisfying SF. Sam, the protagonist, is a young enlisted man in 1941 when his older brother Keenan is killed at Pearl Harbor. Seduced by a mysterious woman, Sam gives her plans for a device that will end not just the war, but perhaps even the human predilection for war.
Sam spends his war years trying to construct the device and discovers only later that it worked. Sam falls in love with a spy, and they both become involved in preventing the JFK assassination in the 1960s. Over the decades it becomes deeply meaningful that his world is strangely transformed by the enigmatic device.
About the Author
Kathleen Ann Goonan is a multiple Nebula Award–nominee and won the John W. Campbell Award for her novel In War Times. She lives in Tavernier, Florida.
Praise For In War Times: An Alternate Universe Novel of a Different Present (Dance Family #1)…
"Goonan weaves experimental jazz, particle physics, and biochemistry into a compelling adventure through alternate universes." —Entertainment Weekly
"In War Times is a novel of great historical reach...and profound ambition, expressed with an unmistakable ease of execution and a master's sureness of touch. Kathleen Ann Goonan has come through to the kind of control that makes every startling fresh development—and this novel bristles with astonishing moments of development—seem inevitable." —Peter Straub, bestselling and award-winning author of Talisman and Ghost Story
"Sometimes a book makes me stop and think after I've finished it. Occasionally a book will make me stop and think during it. Rarely will a book do both. In War Times is one of those rare books whose ideas live in your mind long after you've finished and make you think about them for a time afterward." —SF Signal
"Paralleling the evolution of modern jazz with the creative ferment of science, Goonan delivers a bravura performance." —Publishers Weekly