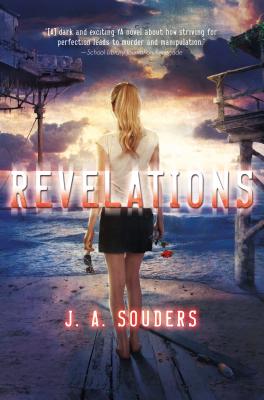 Revelations
A Novel (The Elysium Chronicles #2)
Paperback

* Individual store prices may vary.
Description
The Elysium Chronicles, J.A. Souders' riveting SF series for teens which began with the psychological thriller Renegade, continues in Revelations.

Six weeks after her arrival on the Surface, Evelyn Winters is no closer to unlocking the memories lost in her subconscious than she was when she first came. Isolated in a strange new society, Evie has only Gavin Hunter to remind her of who she once was.

But even with a clean slate, it's easy to see that Evie doesn't fit in on the Surface. And as her differences make her feel more and more alone, she can't help but yearn for that place she doesn't remember: the isolated city hidden in the depths of the ocean. Elysium. Home.

But she can't exactly tell Gavin what she's feeling. Not when he's the one who helped her escape Elysium in the first place, and has the scars to prove it. Though the doctors say otherwise, Gavin believes that Evie just needs time. And if her memories don't come back, well, maybe she's better off not remembering her past.

But the decision may be out of their hands when Evie's ever-elusive memories begin to collide with reality. People and images from her past appear in the most unlikely places, haunting her, provoking her…and making her seem not only strange but dangerous.

Evie and Gavin can't wait around for her memories to return. They'll have to journey across the Outlands of the Surface to find help, and in the end, their search may just lead them back to the place it all started…
Praise For Revelations: A Novel (The Elysium Chronicles #2)…
"Deliciously creepy and filled with psychological twists, Renegade kept me on the edge of my seat until the very last page." —Kristen Simmons, author of Article 5

"Renegade is a dark tale of deceit, with twists that will keep you turning the pages, and an ending that will have you on the edge of your seat." —Lisa Desrochers, author of Personal Demons

"[A] dark and exciting YA novel about how striving for perfection leads to murder and manipulation. A solid recommendation for fans of dystopian fiction." —School Library Journal on Renegade

"Grim, vicious, riveting. Renegade is a haunting, unforgettable debut." —Ann Aguirre, national bestselling author of Enclave
Tor Teen, 9780765332493, 368pp.
Publication Date: July 12, 2016
About the Author
J.A. SOUDERS is the author of the Elysium Chronicles (including Renegade and Revelations) and lives in the land of sunshine and palm trees with her husband and two children where she spends her time writing about the monsters under the bed, day dreaming about living in an underwater colony, and failing miserably at playing video games.