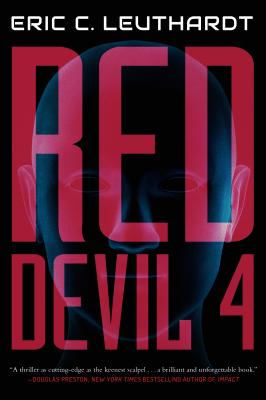 RedDevil 4
Hardcover

* Individual store prices may vary.
Other Editions of This Title:
Mass Market (10/28/2014)
Description
"RedDevil 4" is spine-tingling techno-thriller based on cutting edge research from surgeon and inventor Eric C. Leuthardt.
Renowned neurosurgeon Dr. Hagan Maerici is on the verge of a breakthrough in artificial intelligence that could change the way we think about human consciousness. Obsessed with his job and struggling to save his marriage, Dr. Maerici is forced to put his life's work on the line when a rash of brutal murders strikes St. Louis.
Edwin Krantz, an aging, technophobic detective, and his partner, Tara Dezner, are tasked with investigating the horrifying killings. Shockingly, the murders have all been committed by prominent citizens who have no obvious motives or history of violence. Seeking an explanation for the suspects' strange behavior, Krantz and Denzer turn to Dr. Maerici, who believes that the answer lies within the killers' brains themselves. Someone is introducing a glitch into the in-brain computer systems of the suspects a virus that turns ordinary citizens into murderers. With time running out, this trio of unlikely allies must face a gauntlet of obstacles, both human and A.I., as they attempt to avert disaster.
Praise For RedDevil 4…
"Provocative and scary, there's an utter realism that leaps from every page. You'll find yourself not only savoring a peek into the psyche, but one into the future as well."
—Steve Berry, New York Times bestselling author of The Jefferson Key 

"Here is a thriller that is as cutting-edge as the keenest scalpel, written by a young neurosurgeon and expert on brain-computer interfaces. The action is fast and furious, even as the novel grapples with some of the deepest and most disturbing questions in medicine, computing, and the nature of consciousness."
—Douglas Preston, New York Times bestselling author of Impact

"A terrifying journey into the promise and peril of artificial intelligence. You'll never look at a computer chip the same way again."
—J.E. Fishman, bestselling author of The Dark Pool

"Leuthardt puts his expertise as a neurosurgeon to good use in his impressive debut."
—Publishers Weekly

"Leuthardt describes a world that others have imagined wherein humans have chosen to 'upgrade' by adding computer interfaces to their brains . . . but he adds his own spin with neuroscience and computing details. . . . Fans of the intersection between hard science and wetware should relish this tale."
—Library Journal
Forge, 9780765332561, 365pp.
Publication Date: February 4, 2014
About the Author
ERIC C. LEUTHARDT, MD is a neurosurgeon and biomedical engineer, and a recognized pioneer in neuroprosthetics. He is widely published in scientific journals and has received a number of scholarly awards in recognition of his contributions. Dr. Leuthardt is the director of the Center for Innovation in Neuroscience and Technology at Washington University School of Medicine, where he researches brain-computer interfaces. RedDevil 4 is his first novel.
or
Not Currently Available for Direct Purchase