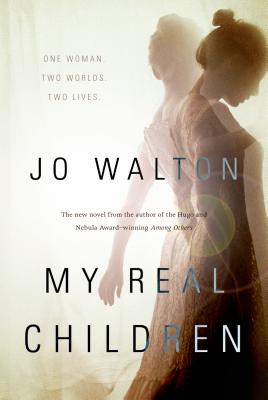 My Real Children
Hardcover

* Individual store prices may vary.
Other Editions of This Title:
Paperback (5/19/2015)
MP3 CD (6/30/2015)
Description
It's 2015, and Patricia Cowan is very old. "Confused today," read the notes clipped to the end of her bed. She forgets things she should know-what year it is, major events in the lives of her children. But she remembers things that don't seem possible. She remembers marrying Mark and having four children. And she remembers not marrying Mark and raising three children with Bee instead. She remembers the bomb that killed President Kennedy in 1963, and she remembers Kennedy in 1964, declining to run again after the nuclear exchange that took out Miami and Kiev.
Her childhood, her years at Oxford during the Second World War-those were solid things. But after that, did she marry Mark or not? Did her friends all call her Trish, or Pat? Had she been a housewife who escaped a terrible marriage after her children were grown, or a successful travel writer with homes in Britain and Italy? And the moon outside her window: does it host a benign research station, or a command post bristling with nuclear missiles?
Two lives, two worlds, two versions of modern history; each with their loves and losses, their sorrows and triumphs. Jo Walton's My Real Children is the tale of both of Patricia Cowan's lives...and of how every life means the entire world.
Praise For My Real Children…
"My Real Children has as much in common with an Alice Munro story as it does with, say, Philip K. Dick's The Man in the High Castle . Good novels show us a character's destiny as an expression of who they fundamentally are. What most novels do only once, My Real Children does twice." —Lev Grossman
"My Real Children starts quietly, then suddenly takes you on two roller-coaster rides at once, swooping dizzily through a double panorama and ending in a sort of super Sophie's Choice. A daring tour de force." —Ursula K. Le Guin
"Such a wise book, about sweetness in sorrow, without any sentiment... It's easy to write a sad book, but this one uplifts and sweetens even as it tears your heart to pieces. Astounding work, even by Walton's incredibly high standards." —Cory Doctorow
"It amazes me a little, the ease with which such a quiet tale and such spare prose managed to engage my brain, boil my blood, and-- ultimately-- break my heart. Thank you, Ms. Walton, for showing me how it's done." —Peter Watts
"A dizzying array of astonishments unfolding, a Chinese box of surprises. Once started, it is extraordinarily difficult to put this book down, even for dinner, even for bed." —Jane Yolen
"Jo Walton is inimitable... This book is heartbreaking and hilarious, finding profundity in the most minute personal details and individual meaning in the largest events." —Pamela Dean
"An achingly beautiful book... After you read the last page, you will never be able to see any history, yours or the world's, in quite the same way." —Susan Palwick
"Breathtakingly good! I really didn't want it to end, but I had to keep turning pages to see how it came out. A novel for grown-ups, even ones who think they 'don't like science fiction." —Ellen Kushner
"A wonderfully absorbing book...The characters are very real, the plot as complex as origami, the theme timeless. I lost sleep reading it, and dreamed about it when I did sleep." —Delia Sherman
"Lyrical and brilliant. Jo Walton takes "What If" to a new level." —Ellen Klages
"My Real Children is about ordinary lives, lives filled with love and heartbreak, parents and children, friends and ideas and books and cooking--and at the same time it's so gripping, so compulsively readable, that you can't wait to find out what happens next... A fascinating, poignant answer to the question everyone asks sooner or later: What if I hadn't made that choice? What if I'd done something differently?" —Lisa Goldstein
"In her greatest novel, George Eliot attributed the growing good of the world to the actions of ordinary people, to which Jo Walton responds in My Real Children, 'What if?'" —Sherwood Smith
Tor Books, 9780765332653, 320pp.
Publication Date: May 20, 2014
About the Author
Jo Walton won the John W. Campbell Award for Best New Writer on publication of her debut novel The King's Peace. She won the World Fantasy Award in 2004 for Tooth and Claw, and in 2012, the Hugo and Nebula Awards for Among Others. In addition to writing SF and fantasy, she has also designed role-playing games and published poetry. Her song "The Lurkers Support Me In Email" has been quoted innumerable times in online discussions all over the world, frequently without attribution. A native of Wales, she lives in Montreal.
or
Not Currently Available for Direct Purchase