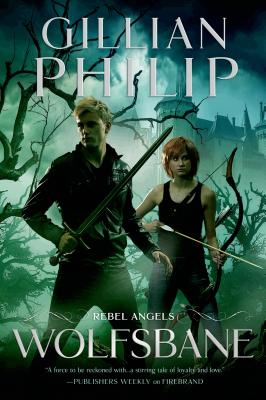 Wolfsbane (Hardcover)
A Novel (Rebel Angel Series #3)
Tor Books, 9780765333247, 432pp.
Publication Date: July 1, 2014
* Individual store prices may vary.
Description
It's tough being the foretold savior of your race. Rory MacGregor, kept a virtual prisoner in his own father's dun and hunted by the Sithe queen, needs a break now and then—and what better fun than tearing the Veil no one else can tear and escaping to the Otherworld?
In that dangerous Otherworld, Hannah Falconer is as trapped by circumstance as the strange wild Sithe boy whose horse nearly kills her. When Rory tricks her into crossing the Veil and entering his world, she's sure it can't be any worse than her usual home life.
Meanwhile, Seth MacGregor is fighting to keep his clan safe from the malevolent queen Kate. When an attack comes after years of stalemate, he is shocked to discover who is leading it...and who else is conspiring against him.
Wolfsbane, the third novel in Gillian Philip's Rebel Angels series is enthralling and suspenseful, with a range of characters appealing to every age.
About the Author
GILLIAN PHILIP is the author of the Rebel Angels series, including Firebrand, Bloodstone, Wolfsbane, and Icefall. She was born in Glasgow, lived for twelve years in Barbados, and now lives in the north of Scotland with her husband, twin children, three dogs, two sociopathic cats, a slayer hamster, three chickens, and a lot of nervous fish.
Praise For Wolfsbane: A Novel (Rebel Angel Series #3)…
"As ferociously compelling as Suzanne Collins's The Hunger Games, with which it invites comparison." —Kirkus Reviews on Firebrand
"The immortal (though not invincible) Sithe world of the brothers and the all-too-familiar human world come alive with expertly drawn details." —RT Book Reviews on Firebrand
"Once a year, a new novelist really blows me away. Last year it was Suzanne Collins with The Hunger Games. This year it's Gillian Philip's Firebrand... A fantastically violent, utterly thrilling tale...Firebrand is one of the very best...Philip's clear prose is as fiery as whiskey...The best fantasy novel of 2010." —The Sunday Times on Firebrand
"Once a year, a new novelist really blows me away. Last year it was Suzanne Collins with The Hunger Games...This year it's Gillian Philip's Firebrand... A fantastically violent, utterly thrilling tale...Firebrand is one of the very best...Philip's clear prose is as fiery as whiskey...This deserves prizes... The best fantasy novel of 2010." —The Sunday Times on Firebrand
"Philip has created an utterly believable other world, where male and female are equals in arms. It is often stark and brutal but with moments of heartbreaking beauty." —The Guardian on Firebrand
or
Not Currently Available for Direct Purchase