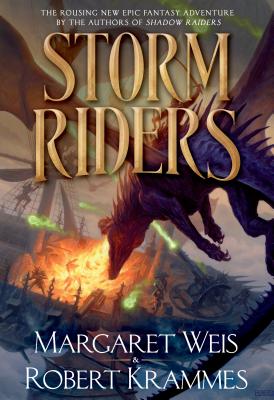 Storm Riders (Hardcover)
Tor Books, 9780765333490, 512pp.
Publication Date: July 16, 2013
Other Editions of This Title:
Digital Audiobook (9/19/2013)
Mass Market (7/29/2014)
* Individual store prices may vary.
Description
In a world where magic is intrinsic to the fabric of everyday life, two kingdoms, centuries-long enemies, have long sought a powerful magical weapon that will win them lasting dominance. But neither realm is ready when they are both attacked by the Bottom-Dwellers, a bitter people whose own land was destroyed, and who now live only to take vengeance on those they blame for a wretched life in the storm-tossed abyss they inhabit. Using contramagic strengthened by blood sacrifice to attack the world above, they threaten to bring down whole cities, or even the island kingdoms themselves. Freya and Rosia are forced to put aside their age-old conflict to defend themselves, or risk losing everything.
As the Bottom-Dwellers' contramagic eats away at the magic of the dragons that helps protect the world above, a former dragon-riding hero gathers a ragtag group to form a new dragon brigade, the one desperate hope of the two kingdoms to defeat the fiends who threaten their world. As the effects of contramagic bring the world ever closer to disaster, the new dragon brigade fight the vengeful adversary. Their high-flying heroics will be to no avail, though, unless they can somehow uncover forbidden knowledge, long hidden by the Church, without which they will never be able to prevent the world's destruction.
Margaret Weis and Robert Krammes deliver yet another exciting dragon brigade adventure in "Storm Riders.
About the Author
MARGARET WEIS is the internationally bestselling author of The Dragonlance Chronicles, Darksword Trilogy, and The Deathgate Cycle. She lives in Williams Bay, Wisconsin. ROBERT KRAMMES is a game designer and the general manager at Aztec Video Productions. He lives in Cincinnati, Ohio.
Praise For Storm Riders…
Praise for Storm Riders
"The multifaceted action and well-drawn characters will keep any fantasy fan's excitement at feverish pitch, a particularly impressive feat for a middle book."
--Publishers Weekly, starred review
"The novel is a great ride, offering shifting political alliances, thrilling battle sequences, angst-y romance and hairpin plot twists."
--Kirkus Reviews, starred review
"A very solid piece of epic fantasy, with conspiracy and plotting as well as a great deal of action, Storm Riders carries on an entertaining story to a cliff-hanger that guarantees readers will want the next volume."
--Booklist
or
Not Currently Available for Direct Purchase