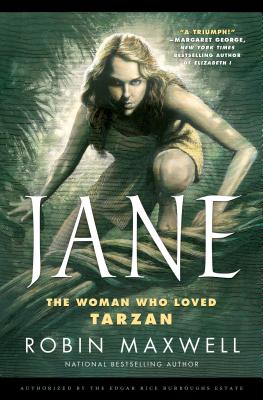 Jane (Paperback)
The Woman Who Loved Tarzan
Tor Books, 9780765333599, 320pp.
Publication Date: September 18, 2012
Other Editions of This Title:
Hardcover (9/18/2012)
MP3 CD (6/20/2016)
Pre-Recorded Audio Player (9/4/2012)
Compact Disc (9/1/2013)
Compact Disc (9/18/2012)
Compact Disc (9/1/2012)
MP3 CD (9/1/2012)
MP3 CD (9/1/2013)
MP3 CD (9/18/2012)
* Individual store prices may vary.
Description
Cambridge, England, 1905. Jane Porter is hardly a typical woman of her time. The only female student in Cambridge University's medical program, she is far more comfortable in a lab coat dissecting corpses than she is in a corset and gown sipping afternoon tea. A budding paleoanthropologist, Jane dreams of traveling the globe in search of fossils that will prove the evolutionary theories of her scientific hero, Charles Darwin.
When dashing American explorer Ral Conrath invites Jane and her father to join an expedition deep into West Africa, she can hardly believe her luck. Africa is every bit as exotic and fascinating as she has always imagined, but Jane quickly learns that the lush jungle is full of secrets and so is Ral Conrath. When danger strikes, Jane finds her hero, the key to humanity's past, and an all-consuming love in one extraordinary man: Tarzan of the Apes.
"Jane "is the first version of the Tarzan story written by a woman and authorized by the Edgar Rice Burroughs estate. Its publication marks the centennial of the original "Tarzan of the Apes.
About the Author
ROBIN MAXWELL is the national bestselling author of eight historical fiction novels featuring powerful women, including Signora da Vinci and the award-winning Secret Diary of Anne Boleyn, now in its twenty-fourth printing. She lives in the high desert of California with her husband, yogi Max Thomas.
Praise For Jane: The Woman Who Loved Tarzan…
"Not only is it wildly entertaining and more swoon-worthy and tastefully erotic than Fifty Shades of Grey or any of its knock-offs, but also, Jane has heart and soul. If you are looking for a stellar historical romance and adventure story, Jane should definitely sit on your bookshelf. It has charming and fascinating characters and sociopath villains who scare the living daylights out of you. Jane: The Woman Who Loved Tarzan has positively reinvented the beloved couple for the modern age."
—The Huffington Post

"Jane is a triumph! A triumph of imagination, adventure, and character. Here we have the true 'missing link' that we've always wanted—Jane's side of the story." 
—Margaret George, New York Times bestselling author of Elizabeth I
"Finally an honest portrayal of the only woman of whom I have been really, really jealous. What a wonderful idea to write this book. Now I am jealous all over again!"
—Jane Goodall PhD, DBE, Founder of the Jane Goodall Institute, UN Messenger of Peace

"With riveting action and suspense, earthy humor, a piquant look at the debate over evolution, and the love between heroic, resourceful, and tender Tarzan and smart, strong, and passionate Jane, this is lush and satisfying entertainment."
—Booklist, starred review

"Excitement, danger, labyrinths, pyramids, treasure, and volcanoes abound, as Jane and Tarzan learn to trust and love each other."
—Library Journal

"Jane Goodall and Isak Dinesen would be right at home with Miss Jane Porter. A respectful, exciting and disarming update of one of the last century's most oft-told tales."
—Kirkus Reviews
"Authentic and compelling, Jane was a book I couldn't put down. Robin Maxwell's talented storytelling ability brought these fabulous characters to life for me. Don't miss this unique and thoroughly enjoyable book!" 
—Brenda Novak, New York Times bestselling author of In Close
"My Dad, John Coleman Burroughs, and my Grandad, Edgar Rice Burroughs, would often discuss Tarzan's relation to Jane. `Now there is an idea for a good book....one that really brings Jane into focus,' Grandad would say. Robin Maxwell's book does this brilliantly. Not only do Tarzan and Jane transform into a living, breathing couple who bring the Tarzan saga to new life, but the thrills and adventure leap off the page in the grand tradition of Edgar Rice Burroughs himself." 
—John R. Burroughs, Grandson of Edgar Rice Burroughs
or
Not Currently Available for Direct Purchase