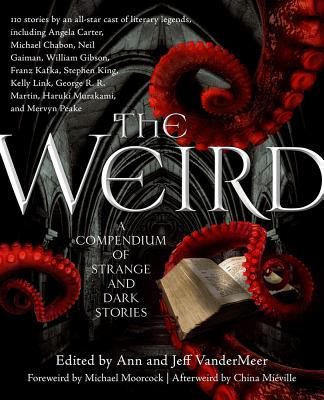 The Weird
A Compendium of Strange and Dark Stories
Paperback

* Individual store prices may vary.
Description
From Lovecraft to Borges to Gaiman, a century of intrepid literary experimentation has created a corpus of dark and strange stories that transcend all known genre boundaries. Together these stories form The Weird, and its practitioners include some of the greatest names in twentieth and twenty-first century literature.

Exotic and esoteric, The Weird plunges you into dark domains and brings you face to face with surreal monstrosities. You won't find any elves or wizards here...but you will find the biggest, boldest, and downright most peculiar stories from the last hundred years bound together in the biggest Weird collection ever assembled.
The Weird features 110 stories by an all-star cast, from literary legends to international bestsellers to Booker Prize winners: including William Gibson, George R. R. Martin, Stephen King, Angela Carter, Kelly Link, Franz Kafka, China Miéville, Clive Barker, Haruki Murakami, M. R. James, Neil Gaiman, Mervyn Peake, and Michael Chabon.

The Weird is the winner of the 2012 World Fantasy Award for Best Anthology
Praise For The Weird: A Compendium of Strange and Dark Stories…
"What is good about the majority of these stories is precisely that they leave you with many more questions than answers, the mark, in my view, of a superior kind of fiction... It does, in fact, what most of our best fiction does, irrespective of category." —Award-winning author Michael Moorcock, from his introduction

"These texts, dead and/or not, burrow, and we cannot predict everything they will infect or eat their path through. But certainly your brain, and they will eat the books you read from today on, too. That is how the Weird recruits." —China Miéville, bestselling and award-winning author of Embassytown, from his afterword

"Studded with literary gems, it's a hefty, diligently assembled survey of a genre that manages to be at once unsettling, disorientating and bracing in its variety." —James Lovegrove, Financial Times

"It's a tremendous experience to go through its 1,126 pages… there are so many delights in this that any reader will find something truly memorable." —Scotland on Sunday

"Readers eager to explore a world beyond the ordinary need look no further." —Time Out

"An anthology of writing so powerful it will leave your reality utterly shredded… Give yourself to the weird! Hurl your puny mortal body through the portal the VanderMeers have opened for you, join your lord the Miéville on the other side, give your heart and soul to the saints that stand at his feet, to the mad prophets that have prepared you for his coming. Open the pages of the new gospel of The Weird." —Guardian.co.uk

"Unmissable!" —The Guardian

"The definitive collection of weird fiction… its success lies in its ability to lend coherence to a great number of stories that are so remarkable different and yet share the same theme." —TLS
Tor Books, 9780765333629, 1152pp.
Publication Date: May 8, 2012
About the Author
Jeff VanderMeer is the author of Dead Astronauts, Borne, and The Southern Reach Trilogy, the first volume of which, Annihilation, won the Nebula Award and the Shirley Jackson Award and was adapted into a movie by Alex Garland starring Natalie Portman. VanderMeer speaks and writes frequently about issues relating to climate change. He grew up in the Fiji Islands and now lives in Tallahassee, Florida, with his wife, Ann VanderMeer, and their cats, plants, and bird feeders.

ANN VANDERMEER is the Hugo Award–winning former editor of Weird Tales magazine and has worked with her husband, Hugo–nominated and World Fantasy Award–winning writer JEFF VANDERMEER on the genre-defining anthologies The New Weird, Steampunk, and The Thackery T. Lambshead Cabinet of Curiosities, and the World Fantasy Award–winning The Weird. They live in Tallahassee, Florida.