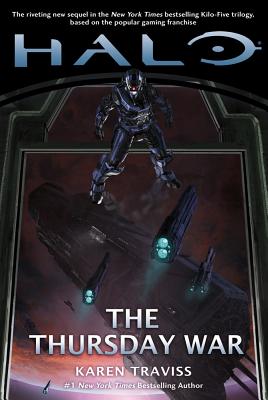 HALO (Hardcover)
The Thursday War
Tor Books, 9780765333636, 448pp.
Publication Date: October 2, 2012
Other Editions of This Title:
Paperback (4/2/2019)
Mass Market (8/27/2013)
Paperback (10/2/2012)
Compact Disc (11/27/2012)
Compact Disc (1/1/2019)
* Individual store prices may vary.
Description
The second book of the Glasslands trilogy, another action packed adventure in the vast universe of the Halo game where the Human-Covenant War rages on.
Welcome to humanity's new war: silent, high stakes, and unseen. This is a life-or-death mission for ONI's black-ops team, Kilo-Five, which is tasked with preventing the ruthless Elites, once the military leaders of the Covenant, from regrouping and threatening humankind again. What began as a routine dirty-tricks operation -- keeping the Elites busy with their own insurrection -- turns into a desperate bid to extract one member of Kilo-Five from the seething heart of an alien civil war.
But troubles never come singly for Kilo-Five. Colonial terrorism is once again surfacing on one of the worlds that survived the war against the Covenant, and the man behind it is much more than just a name to Spartan-010. Meanwhile, the treasure trove of Forerunner technology recovered from the shield world of Onyx is being put to work while a kidnapped Elite plots vengeance on the humans he fears will bring his people to the brink of destruction.
About the Author
#1 New York Times best-selling novelist, scriptwriter and comics author Karen Traviss has received critical acclaim for her award-nominated Wess'har series, as well as regularly hitting the bestseller lists with her Halo, Gears of War, and Star Wars work. A former defense correspondent and TV and newspaper journalist, she lives in Wiltshire, England.
or
Not Currently Available for Direct Purchase