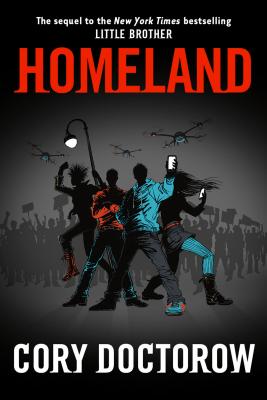 Homeland
Hardcover

* Individual store prices may vary.
Other Editions of This Title:
Digital Audiobook (4/30/2014)
Paperback (5/27/2014)
Compact Disc (5/1/2014)
MP3 CD (5/1/2014)
Compact Disc (5/1/2014)
Description
In Cory Doctorow's wildly successful Little Brother, young Marcus Yallow was arbitrarily detained and brutalized by the government in the wake of a terrorist attack on San Francisco—an experience that led him to become a leader of the whole movement of technologically clued-in teenagers, fighting back against the tyrannical security state.

A few years later, California's economy collapses, but Marcus's hacktivist past lands him a job as webmaster for a crusading politician who promises reform. Soon his former nemesis Masha emerges from the political underground to gift him with a thumbdrive containing a Wikileaks-style cable-dump of hard evidence of corporate and governmental perfidy. It's incendiary stuff—and if Masha goes missing, Marcus is supposed to release it to the world. Then Marcus sees Masha being kidnapped by the same government agents who detained and tortured Marcus years earlier.

Marcus can leak the archive Masha gave him—but he can't admit to being the leaker, because that will cost his employer the election. He's surrounded by friends who remember what he did a few years ago and regard him as a hacker hero. He can't even attend a demonstration without being dragged onstage and handed a mike. He's not at all sure that just dumping the archive onto the Internet, before he's gone through its millions of words, is the right thing to do.

Meanwhile, people are beginning to shadow him, people who look like they're used to inflicting pain until they get the answers they want.

Fast-moving, passionate, and as current as next week, Homeland is every bit the equal of Little Brother—a paean to activism, to courage, to the drive to make the world a better place.
Praise For Homeland…
"A wonderful, important book . . . I'd recommend Little Brother over pretty much any book I've read this year." —Neil Gaiman on Little Brother

"A rousing tale of techno-geek rebellion." —Scott Westerfeld

"A terrific read . . . A neat story and a cogently written, passionately felt argument. It's a stirring call to arms." —The New York Times on Little Brother

"One of the year's most important books." —Chicago Tribune on Little Brother

"A worthy younger sibling to Orwell's Nineteen Eighty-Four, Cory Doctorow's Little Brother is lively, precocious, and most importantly, a little scary." —Brian K. Vaughan, author of the graphic novel Y: The Last Man on Little Brother

"Believable and frightening . . . Filled with sharp dialogue and detailed descriptions of how to counteract gait-recognition cameras, arphids (radio frequency ID tags), wireless Internet tracers and other surveillance devices, this work makes its admittedly didactic point within a tautly crafted fictional framework." —Publishers Weekly (starred review) on Little Brother

"I'm a huge fan of Little Brother. Reading about m1k3y, Ange, and their friends helped me visualize the escalating intrusions on our freedom and privacy wrought by advances in technology. The book describes a dystopia that seems chillingly plausible--and near." —Alex Kozinski, Chief Justice of the U.S. Court of Appeals for the Ninth Circuit on Little Brother

"Freaking cool . . . Doctorow is terrific at finding the human aura shimmering around technology." —Los Angeles Times on Little Brother
Tor Teen, 9780765333698, 400pp.
Publication Date: February 5, 2013
About the Author
Cory Doctorow is a regular contributor to the Guardian, Locus, and many other publications. He is a special consultant to the Electronic Frontier Foundation, an MIT Media Lab Research Associate and a visiting professor of Computer Science at the Open University. His award-winning novel Little Brother and its sequel Homeland were a New York Times bestsellers. His novella collection Radicalized was a CBC Best Fiction of 2019 selection. Born and raised in Canada, he lives in Los Angeles.
or
Not Currently Available for Direct Purchase