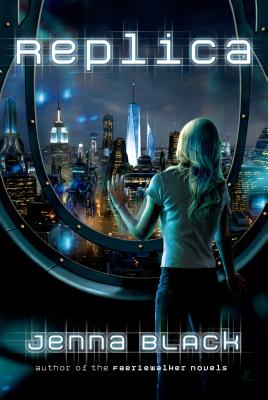 Replica
Paperback

* Individual store prices may vary.
Description
REPLICA is the breathtaking new SF novel from JENNA BLACK, author of the Faeriewalker series.

Sixteen-year-old Nadia Lake's marriage has been arranged with the most powerful family in the Corporate States. She lives a life of privilege even if she has to put up with paparazzi tracking her every move, every detail of her private life tabloid fodder. But her future is assured, as long as she can maintain her flawless public image—no easy feat when your betrothed is a notorious playboy.

Nathaniel Hayes is the heir to the company that pioneered human replication: a technology that every state and every country in the world would kill to have. Except he's more interested in sneaking around the seedy underbelly of the state formerly known as New York than he is in learning to run his future company or courting his bride-to-be. She's not exactly his type…not that he can tell anyone that.

But then Nate turns up dead, and Nadia was the last person to see him alive.

When the new Nate wakes up in the replication tanks, he knows he must have died, but with a memory that only reaches to his last memory back-up, he doesn't know what—or rather, who—killed him.

Together, Nadia and Nate must discover what really happened without revealing the secrets that those who run their world would kill to protect.
Praise For Replica…
"Jenna Black's bewitching journey into the land of Avalon blends mysterious guys, good friends, mortal danger, and confusing relatives into a magical book that just does not let you close it until you are all done. Be prepared to stay up late finishing this one. It's that good." —Carrie Jones, New York Times bestselling author of Need and Captivate

"Black handles the mash-up of genres and cultures deftly, giving Dana a credibility that keeps readers cheering her on. A promising start to a series." —Booklist
Tor Teen, 9780765333711, 368pp.
Publication Date: July 16, 2013
About the Author
Author Jenna Black writes paranormal romance books and young adult novels, including Shadowspell and Watchers in the Night, which was nominated for the 2006 Paranormal Excellence in Romantic Literature (PEARL) award. She's your typical writer: an experience junkie. Once upon a time, she dreamed she would be the next Jane Goodall, camping in the bush and making fabulous discoveries about primate behavior. She went to Duke University to study physical anthropology. Then, during her senior year, she made a shocking discovery: primates spend something like 80% of their time doing such exciting things as sleeping and eating. Narrowly escaping the boring life of a primatologist, she moved on to such varied pastimes as grooming dogs and writing technical documentation. Among her other experiences: ballroom dancing, traveling to all seven continents--yes, even Antarctica--becoming a Life Master in Bridge, and singing in a barbershop chorus.