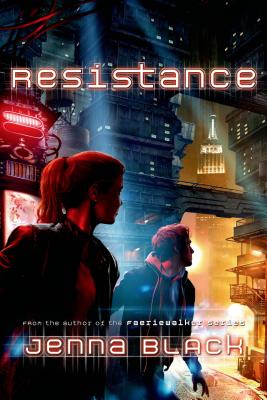 Resistance (Replica #2)
Paperback

* Individual store prices may vary.
Description
Resistance is the second installment in acclaimed author Jenna Black's YA SF romance series.

Nate Hayes is a Replica.

The real Nate was viciously murdered, but thanks to Paxco's groundbreaking human replication technology, a duplicate was created that holds all of the personality and the memories of the original. Or...almost all. Nate's backup didn't extend to the days preceding his murder, leaving him searching for answers about who would kill him, and why. Now, after weeks spent attempting to solve his own murder with the help of his best friend and betrothed, Nadia Lake, Nate has found the answers he was seeking...and he doesn't like what he's discovered.

The original Nate was killed because he knew a secret that could change everything. Thanks to Nadia's quick thinking, the two of them hold the cards now—or think they do.

Unfortunately, neither of them fully understands just how deep the conspiracy runs.
Tor Teen, 9780765333728, 368pp.
Publication Date: March 11, 2014
About the Author
Author Jenna Black writes paranormal romance books and young adult novels, including Shadowspell and Watchers in the Night, which was nominated for the 2006 Paranormal Excellence in Romantic Literature (PEARL) award. She's your typical writer: an experience junkie. Once upon a time, she dreamed she would be the next Jane Goodall, camping in the bush and making fabulous discoveries about primate behavior. She went to Duke University to study physical anthropology. Then, during her senior year, she made a shocking discovery: primates spend something like 80% of their time doing such exciting things as sleeping and eating. Narrowly escaping the boring life of a primatologist, she moved on to such varied pastimes as grooming dogs and writing technical documentation. Among her other experiences: ballroom dancing, traveling to all seven continents--yes, even Antarctica--becoming a Life Master in Bridge, and singing in a barbershop chorus.