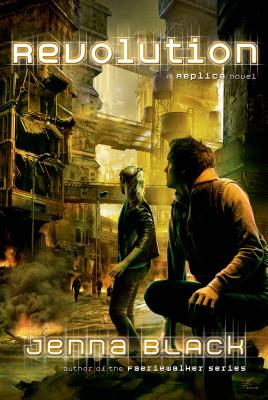 Revolution (Replica #3)
Paperback

* Individual store prices may vary.
Description
In Revolution, Nadia Lake and Nate Hayes find themselves at the center of a horrifying conspiracy in the action-packed finale of Jenna Black's SF romance series that began with Replica

Paxco has a new ruler.

Dorothy Hayes claims to be the secret daughter of the recently-assassinated Chairman. She also claims that Nate Hayes, the true heir and her supposed brother, was the one who murdered their father.

Nate and his best friend, Nadia Lake, are the only ones who know the truth about what really happened to the Chairman, and more importantly, the truth about Dorothy.

But with Dorothy in power, Nate and Nadia know their days are numbered. They have nowhere to run except the Basement, Paxco's perilous and lawless slums. But Dorothy is far from content with driving her enemies into hiding.

She wants them dead.
Praise For Revolution (Replica #3)…
"Likely to be gobbled up by fans of the genre." —Kirkus Reviews on Replica

"This fast-paced, futuristic novel will delight fans of Orwellian science fiction, as well as readers of dystopian literature. Black explores love, loss, and loyalty against the backdrop of a chillingly familiar future world." —VOYA on Replica

"Jenna Black's bewitching journey into the land of Avalon blends mysterious guys, good friends, mortal danger, and confusing relatives into a magical book." —Carrie Jones, New York Times bestselling author of Need and Captivate, on Glimmerglass
Tor Teen, 9780765333735, 400pp.
Publication Date: November 11, 2014
About the Author
Author Jenna Black writes paranormal romance books and young adult novels, including Shadowspell and Watchers in the Night, which was nominated for the 2006 Paranormal Excellence in Romantic Literature (PEARL) award. She's your typical writer: an experience junkie. Once upon a time, she dreamed she would be the next Jane Goodall, camping in the bush and making fabulous discoveries about primate behavior. She went to Duke University to study physical anthropology. Then, during her senior year, she made a shocking discovery: primates spend something like 80% of their time doing such exciting things as sleeping and eating. Narrowly escaping the boring life of a primatologist, she moved on to such varied pastimes as grooming dogs and writing technical documentation. Among her other experiences: ballroom dancing, traveling to all seven continents--yes, even Antarctica--becoming a Life Master in Bridge, and singing in a barbershop chorus.