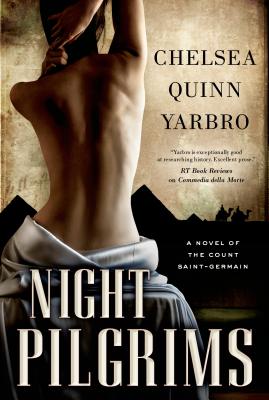 Night Pilgrims
A Saint-Germain Novel (St. Germain #26)
Hardcover

* Individual store prices may vary.
Description
Chelsea Quinn Yarbro's first Saint-Germain novel, Hotel Transylvania, was nominated as Vampire Novel of the Century. Her Saint-Germain cycle, now comprised of more than twenty-five books, is a masterwork of historical horror fiction.

The vampire Count Saint-Germain has crisscrossed the world many times, seeking love and the blood of life and seeing humanity at its best and worst.

In Night Pilgrims, Saint-Germain is living in a monastery in Egypt when he is hired to guide a group of pilgrims to underground churches in southern Egypt. The vampire finds a companion in a lovely widow who later fears that her dalliance with the Count will prevent her from reaching Heaven.

The pilgrims begin to fall prey to the trials of travel in the Holy Lands; some see visions and hear the word of God; others are seduced by desires for riches and power. A visit to the Chapel of the Holy Grail brings many quarrels to a head; Saint-Germain must use all his diplomacy and a good deal of his strength to keep the pilgrims from slaughtering one another.
Praise For Night Pilgrims: A Saint-Germain Novel (St. Germain #26)…
"Before the would fell in love with vampires, Chelsea Quinn Yarbro's Saint-Germain was the wisest, noblest, finest vampire of them all. When all the fashionable vampires have been staked and forgotten, I am certain that Saint-Germain will still be walking through history, thrilling and delighting those of us who love the dark fantastic." —Neil Gaiman

"Quinn Yarbro is one of our finest writers and craftpersons, incapable of a slack paragraph, or a fuzzy thought. Everything is perfectly focused, everything is expertly accomplished. And the Count remains a vibrantly original character, one of the greatest contributions to the horror genre." —Peter Straub

"The detailed historical knowledge characteristic of the series is evident, complemented by highly literate eroticism." —Publishers Weekly on Commedia della Morte

"The characters are richly described and brought to life. Even if the reader has not read any other books in the Count Saint-Germain series, this one stands on its own merits. A pleasure to read." —Booklist on An Embarrassment of Riches

"A meticulous novel, An Embarrassment of Riches brought to mind an elaborate version of The Historian, told from the vampire's perspective." —All Things Urban Fantasy

"Yarbro's compelling prose and meticulously researched setting combine effectively for a vivid historical tale." —Publishers Weekly on An Embarrassment of Riches

"You might compare Yarbro's style to Anne Rice in her vampire tales, where the plot is character driven." —Shelf Life (London, Ontario) on Borne in Blood

"A darkly poetic blend of historical fiction, erotic romance, and literary horror. One of the beauties of Yarbro's Saint-Germain saga is that every novel is basically a stand-alone story. Those looking for a highly intelligent, tastefully understated erotic horror will be absolutely blown away." —BookPage on Roman Dusk
Tor Books, 9780765334008, 416pp.
Publication Date: July 30, 2013
About the Author
CHELSEA QUINN YARBRO has been nominated for the Edgar, the World Fantasy, and the Bram Stoker Awards.  She has been named a Grand Master of the World Horror Convention and a Living Legend by the International Horror Guild.  In 2014, she was named Lifetime Achievement Winner of the World Fantasy Award.  Author of many novels of horror, dark fantasy, mystery and more, including the St. Germain series, Yarbro lives in Berkeley, California.