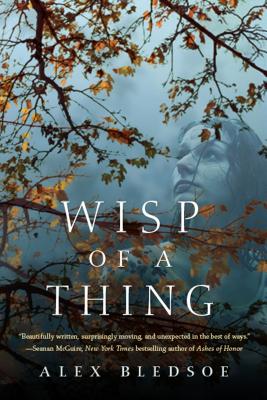 Wisp of a Thing
A Novel of the Tufa (Tufa Novels #2)
Hardcover

* Individual store prices may vary.
Other Editions of This Title:
Paperback (3/3/2015)
Compact Disc (6/18/2013)
MP3 CD (6/18/2013)
Compact Disc (6/18/2013)
Description
Wisp of a Thing: a unique contemporary fantasy where magic is hidden in plain sight and age-old rivalries simmer just beneath the surface

Alex Bledsoe's The Hum and the Shiver was named one of the Best Fiction Books by Kirkus Reviews. Now Bledsoe returns to the isolated ridges and hollows of the Smoky Mountains to spin an equally enchanting tale of music and fairy magic older than the hills.
Touched by a very public tragedy, musician Rob Quillen comes to Cloud County, Tennessee, in search of a song that might ease his aching heart. All he knows of the mysterious and reclusive Tufa is what he has read on the Internet: They are an enigmatic clan of swarthy, black-haired mountain people whose historical roots are lost in myth and controversy. Some people say that when the first white settlers came to the Appalachians centuries ago, they found the Tufa already there. Others hint that Tufa blood brings special gifts.
Rob finds both music and mystery in the mountains. Close-lipped locals guard their secrets, even as Rob gets caught up in a subtle power struggle he can't begin to comprehend. A vacationing wife goes missing, raising suspicions of foul play, and a strange feral girl runs wild in the woods, howling in the night like a lost spirit.
Change is coming to Cloud County, and only the night wind knows what part Rob will play when the last leaf falls from the Widow's Tree…and a timeless curse must be broken at last.
Enter the captivating world of the fae in Alex Bledsoe's Tufa novels
The Hum and the Shiver
Wisp of a Thing
Long Black Curl
Chapel of Ease
Gather Her Round
Praise For Wisp of a Thing: A Novel of the Tufa (Tufa Novels #2)…
"Beautifully written, surprisingly moving, and unexpected in the best of ways." —Seanan McGuire, New York Times bestselling author of Ashes of Honor on Wisp of a Thing
"This beautifully handled drama of Appalachian music and magic once again comes complete with fascinating characters, a persuasive setting and intriguing complications. Bledsoe's on a roll." —Kirkus Reviews (starred review) on Wisp of a Thing
"Captures the allure and the sometimes sinister beauty of the Appalachian backwoods, filled with myths, haunted by ghosts, and touched, always, by death." —Library Journal, starred review on Wisp of a Thing
"Bledsoe brings a real warmth and a messy humanity to his modern-day fairy story, with strong characterization and a passionate love of music." —Publishers Weekly on Wisp of a Thing
"A chilling mix of fantasy, realism, and a touch of horror." —Booklist on Wisp of a Thing
"As raw and bewitching as the music and magic that fuel it. I loved this book for many reasons--the bone-deep mystery, the setting, the music, and the harsh beauty of its characters. It gives a new meaning to well played." —Rachel Caine, New York Times bestselling author of Two Weeks' Notice on The Hum and the Shiver
"It's a mixture: folk tales and folk songs, updated with a dose of Sex and the City. Or a rustic version of 'urban fantasy,' with its suggestion that there's mystery just around the corner, hidden behind even the dullest small-town façade." —The Wall Street Journal on The Hum and the Shiver
Tor Books, 9780765334138, 352pp.
Publication Date: June 18, 2013
About the Author
ALEX BLEDSOE is the author of the Eddie LaCrosse novels (The Sword-Edged Blonde, Burn Me Deadly, Dark Jenny, and Wake of the Bloody Angel), the novels of the Tufa (The Hum and Shiver, Wisp of a Thing, Long Black Curl, and Chapel of Ease), and the Memphis Vampires (Blood Groove and Girls with Games of Blood). Bledsoe grew up in Memphis, Tennessee. He now lives in Madison, Wisconsin.
or
Not Currently Available for Direct Purchase