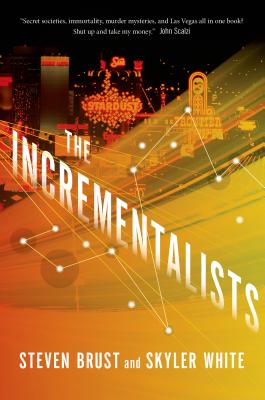 The Incrementalists
Hardcover

* Individual store prices may vary.
Other Editions of This Title:
Paperback (8/26/2014)
MP3 CD (5/17/2016)
Description
"Secret societies, immortality, murder mysteries and Las Vegas all in one book? Shut up and take my money." John Scalzi
The Incrementalists a secret society of two hundred people with an unbroken lineage reaching back forty thousand years. They cheat death, share lives and memories, and communicate with one another across nations, races, and time. They have an epic history, an almost magical memory, and a very modest mission: to make the world better, just a little bit at a time. Their ongoing argument about how to do this is older than most of their individual memories.
Phil, whose personality has stayed stable through more incarnations than anyone else's, has loved Celeste and argued with her for most of the last four hundred years. But now Celeste, recently dead, embittered, and very unstable, has changed the rules not incrementally, and not for the better. Now the heart of the group must gather in Las Vegas to save the Incrementalists, and maybe the world.
"Watch Steven Brust. He's good. He moves fast. He surprises you. Watching him untangle the diverse threads of intrigue, honor, character and mayhem from amid the gears of a world as intricately constructed as a Swiss watch is a rare pleasure." Roger Zelazny.
Praise For The Incrementalists…
"Spare, dangerous, strangely whimsical, damn fine. Read this. It's good."
—Elizabeth Bear on The Incrementalists


"Powerful, manipulative and yet oh-so-very-human, the Incrementalists are my favorite secret society ever. This book is the perfect introduction to these imperfect history makers, with Brust and White as charming, knowing guides to their world."
—John Scalzi on The Incrementalists
"Delightful, exciting, and sometimes brilliant, Steven Brust is the latest in a line of great Hungarian writers, which (I have no doubt) includes Alexandre Dumas, C. S. Forester, Mark Twain, and the author of the juciest bits of the Old Testament."
—Neil Gaiman
"Steven Brust might just be America's best fantasy writer."
—Tad Williams
"As always, Brust invests Vlad with the panache of a Dumas musketeer and the colloquial voice of one of Zelazny's Amber heroes. This is a rousing adventure with enough humor, action and sneaky plot twists to please newcomers as well as longtime series fans."
—Publishers Weekly on
Dragon

"Steven Brust, in a genre that's mostly done by the numbers these days, maintains a hipster charm and an originality of mind."
—The Philadelphia Inquirer on
Agyar
Tor Books, 9780765334220, 304pp.
Publication Date: September 24, 2013
About the Author
STEVEN BRUST is the author of Dragon, Issola, the New York Times bestsellers Dzur and Tiassa, and many other fantasy novels. He lives in Minneapolis. SKYLER WHITE is the author of And Falling, Fly and In Dreams Begin. She lives in Texas.
or
Not Currently Available for Direct Purchase