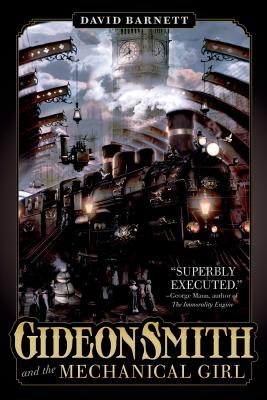 Gideon Smith and the Mechanical Girl (Paperback)
Tor Books, 9780765334244, 352pp.
Publication Date: September 10, 2013
* Individual store prices may vary.
Description
Nineteenth century London is the center of a vast British Empire. Airships ply the skies and Queen Victoria presides over three-quarters of the known world—including the East Coast of America, following the failed revolution of 1775.
London might as well be a world away from Sandsend, a tiny village on the Yorkshire coast. Gideon Smith dreams of the adventure promised him by the lurid tales of Captain Lucian Trigger, the Hero of the Empire, told in Gideon's favorite "penny dreadful." When Gideon's father is lost at sea in highly mysterious circumstances Gideon is convinced that supernatural forces are at work. Deciding only Captain Lucian Trigger himself can aid him, Gideon sets off for London. On the way he rescues the mysterious mechanical girl Maria from a tumbledown house of shadows and iniquities. Together they make for London, where Gideon finally meets Captain Trigger.
But Trigger is little more than an aging fraud, providing cover for the covert activities of his lover, Dr. John Reed, a privateer and sometime agent of the British Crown. Looking for heroes but finding only frauds and crooks, it falls to Gideon to step up to the plate and attempt to save the day...but can a humble fisherman really become the true Hero of the Empire?
David Barnett's Gideon Smith and the Mechanical Girl is a fantastical steampunk fable set against an alternate historical backdrop: the ultimate Victoriana/steampunk mash-up!
About the Author
David Barnett is an award-winning journalist, currently multimedia content manager of the Telegraph & Argus, cultural reviewer for The Guardian and the Independent on Sunday, and he has done features for The Independent and Wired.  He is the author of Angelglass (described by The Guardian as "stunning"), Hinterland, and popCULT!
Praise For Gideon Smith and the Mechanical Girl…
"A triumph of the modern pulp genre. Funny, clever and superbly executed…I guarantee you'll have fun as you breeze through this first adventure of Gideon Smith, and I commend it to you all. I'm already anxious for the next one." —George Mann, author of The Immortality Engine
"A great-hearted, rollicking romp through the many worlds of classic pulp--loads of fun." —Nick Harkaway, author of The Gone-Away World and Angelmaker