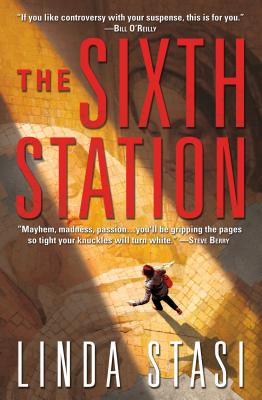 The Sixth Station (Hardcover)
Forge, 9780765334275, 362pp.
Publication Date: January 22, 2013
Other Editions of This Title:
Paperback (12/1/2013)
MP3 CD (6/14/2016)
Mass Market (12/31/2013)
* Individual store prices may vary.
Description
Some say Demiel ben Yusef is the world's most dangerous terrorist, personally responsible for bombings and riots that have claimed the lives of thousands. Others insist he is a man of peace, a miracle worker, and possibly even the Son of God. His trial in New York City for crimes against humanity attracts scores of protestors, as well as media and religious leaders from around the world.
Cynical reporter Alessandra Russo heads to the UN hoping for a piece of the action, but soon becomes entangled in controversy and suspicion when ben Yusef singles her out for attention among all other reporters. As Alessandra begins digging into ben Yusef's past, she is already in more danger than she knows and when she is falsely accused of murder during her investigation, she is forced to flee New York.
On the run from unknown enemies, Alessandra finds herself on the trail of a global conspiracy and a story that could shake the world to its foundations. Is Demiel ben Yusef the Second Coming or the Antichrist? The truth may lie in the secret history of the Holy Family, a group of Templars who defied the church, and a mysterious relic stained with the sacred blood of Christ Himself.
About the Author
LINDA STASI is a celebrated media personality, columnist and critic for The New York Post. She is also an onscreen cohost of NY1, Time Warner's 24/7 news channel, and has appeared on such programs as The O'Reilly Factor, The Today Show, The View, Chris Matthews, CBS Morning Show, and Good Day New York. An award-winning columnist, she is also the author of five nonfiction books. The Sixth Station is her first novel.
Praise For The Sixth Station…
Nominated for the 2014 Mary Higgins Clark Award

"A top five book of the year!"
—Providence Journal

"Linda Stasi crafts a tale combining Islam, Christianity, and National Security.  If you like controversy with your suspense, The Sixth Station is for you."
—Bill O'Reilly, anchor, Fox News Channel

"Mayhem, madness, passion, and pride battle in this wild escapade that stirs straight to the soul.  This one has the Vatican, ancient secrets, mysterious relics, and the Knights Templar— all the right elements to engage both the mind and the imagination.  Careful, though, you'll be gripping the pages so tight your knuckles will turn white."
—Steve Berry, New York Times bestselling author of The Templar Legacy 

"The Sixth Station, Linda Stasi's debut novel, is a hell of a religious thriller. The Sixth Station has it all—great writing, exciting plot, and intriguing characters—and the ending is a shocker."
—Nelson DeMille, New York Times bestselling author of Night Fall and The Gate House
"The Sixth Station is exactly the kind of blockbuster thriller you would expect from Linda Stasi—smart, intriguing, irreverent, impeccably researched, and brilliantly provocative.  If you liked The Da Vinci Code, you'll devour this book."
—Linda Fairstein, New York Times bestselling author of Night Watch and former Manhattan Sex Crimes Prosecutor

"Stasi does an amazing job of mixing science with religious paranoia in this compelling thriller...Dan Brown and Steve Berry fans have another controversial novel in which to lose themselves."
—Booklist

"It's a riveting, fast-paced tale that had my heart pounding on more than one occasion. That said, I was more interested in Ms. Stasi's real-world discoveries and how they affected her outlook on life."
—Washington Times

"If you like Dan Brown, I think this book will be right up your alley . . . this is a fast paced thriller that will have you turning the pages quickly."
—The Kari AnnAlysis

"The thrill of the mystery will suck readers in despite the unusual topic. The Sixth Station undeniably shows Statsi's ability to completely captivate her readers!"
—Lovey Dovey Books

"The best debut thriller of the year hands-down takes us into the heart of a mammoth global conspiracy through the eyes of intrepid reporter Alexandra Russo.  Stasi, a reporter herself, has crafted an expertly researched and wondrously conceived tale that delivers at every level, propelling her right out of the box to a Ludlum-esque level and making her heir to the throne once occupied by the great Helen MacInnes."
—Providence Sunday Journal, Top 5 Books of the Year List


Linda Stasi talks about The Sixth Station on the TODAY Show:  http://on.today.com/Yk0eje
or
Not Currently Available for Direct Purchase