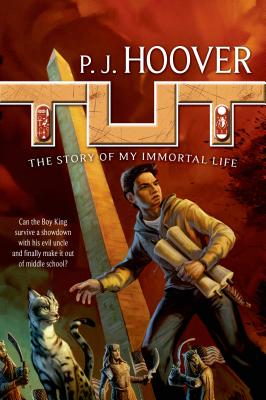 Tut
The Story of My Immortal Life (Tut: My Immortal Life #1)
Hardcover

* Individual store prices may vary.
Description
Tut: The Story of My Immortal Life is a funny, fast-paced novel for young readers by P.J. Hoover which chronicles the mischievous adventures of King Tut, now an immortal eighth-grader living in Washington, D.C..
You'd think it would be great being an Egyptian demigod, but if King Tut has to sit through eighth grade one more time, he'll mummify himself.
Granted the gift of immortality by the gods—or is it a curse?—Tut has been stuck in middle school for ages. Even worse, evil General Horemheb, the man who killed Tut's father and whom Tut imprisoned in a tomb for three thousand years, is out and after him. The general is in league with the Cult of Set, a bunch of guys who worship one of the scariest gods of the Egyptian pantheon—Set, the god of Chaos.
The General and the Cult of Set have plans for Tut… and if Tut doesn't find a way to keep out of their clutches, he'll never make it to the afterworld alive.
Praise For Tut: The Story of My Immortal Life (Tut: My Immortal Life #1)…
"Tut's struggle to find the peace that has eluded him for centuries and understand whether his immortality is a gift or curse is heartfelt and entrancing, and readers will be eager for his next adventure." —VOYA (4Q 5P M J S)
"Being an immortal 14-year-old pharaoh isn't all scepters and servants; there's also the overthrowing of a homicidal cult--and finishing one's homework…. pyramid history buffs and fantasy fans will delight in excavating." —Kirkus Reviews
"The entertaining premise and fast pace keep this adventure on track, while the way Hoover reimagines the Egyptian pantheon--Isis owning a chain of funeral parlors, for instance--is pleasantly reminiscent of Rick Riordan's work." —Publishers Weekly
"Hoover's fun interpretations of Egyptian gods and goddesses, frenetic pace, and appropriately modern snark propel this highly entertaining adventure. A sequel is a sure thing--after all, he is immortal." —Booklist
Starscape, 9780765334688, 320pp.
Publication Date: September 16, 2014
About the Author
P. J. (Tricia) Hoover wanted to be a Jedi, but when that didn't work out, she became an electrical engineer instead. After a fifteen year bout designing computer chips for a living, P. J. decided to start creating worlds of her own. She's the author of Tut: The Story of My Immortal Life, featuring a fourteen-year-old King Tut who's stuck in middle school, andSolstice, a super-hot twist on the Hades/Persephone myth. When not writing, P. J. spends time with her husband and two kids and enjoys practicing kung fu, solving Rubik's cubes, watching Star Trek, and playing too many video games.
or
Not Currently Available for Direct Purchase