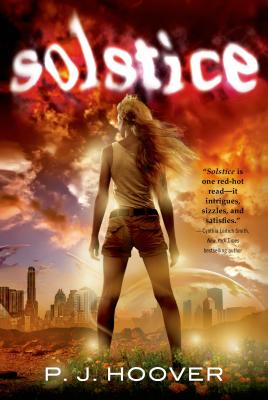 Solstice (Hardcover)
Tor Teen, 9780765334695, 384pp.
Publication Date: June 18, 2013
Other Editions of This Title:
Paperback (11/20/2018)
Paperback (9/1/2011)
* Individual store prices may vary.
Description
Piper's world is dying. Each day brings hotter temperatures and heat bubbles which threaten to destroy the Earth. Amid this Global Heating Crisis, Piper lives under the oppressive rule of her mother, who suffocates her even more than the weather does. Everything changes on her eighteenth birthday, when her mother is called away on a mysterious errand and Piper seizes her first opportunity for freedom.

Piper discovers a universe she never knew existed—a sphere of gods and monsters—and realizes that her world is not the only one in crisis. While gods battle for control of the Underworld, Piper's life spirals out of control as she struggles to find the answer to the secret that has been kept from her since birth—her very identity….

An imaginative melding of mythology and dystopia, Solstice is the first YA novel by talented newcomer P. J. Hoover.
About the Author
P. J. (Tricia) Hoover wanted to be a Jedi, but when that didn't work out, she became an electrical engineer instead. After a fifteen year bout designing computer chips for a living, P. J. decided to start creating worlds of her own. She's the author of Tut: The Story of My Immortal Life, featuring a fourteen-year-old King Tut who's stuck in middle school, andSolstice, a super-hot twist on the Hades/Persephone myth. When not writing, P. J. spends time with her husband and two kids and enjoys practicing kung fu, solving Rubik's cubes, watching Star Trek, and playing too many video games.
Praise For Solstice…
"Solstice is one red-hot read--it intrigues, sizzles and satisfies." —Cynthia Leitich Smith, New York Times bestselling author

"Fans of the mythology in the Percy Jackson books and the romance in the Twilight saga will find something to love in this new dystopian by P. J. Hoover." —Madeline Smoot, Bookseller, BookPeople, Austin TX

"The best modern retelling of a mythological story that I have ever read. Equal parts of mythology, dystopia, and teen romance come together for an amazing story that is a must read for all YA enthusiasts." —Danny Woodfill, The Book Spot, Round Rock, TX

"This enticing combination of an all too scary near future and classical mythology is impossible to put down." —Diana Tixier Herald, Librarian, Genrefluent.com