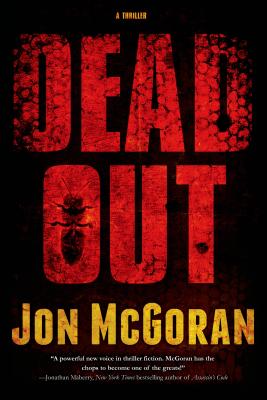 Deadout (Hardcover)
A Thriller (Doyle Carrick #2)
Forge Books, 9780765334718, 400pp.
Publication Date: August 5, 2014
* Individual store prices may vary.
Description
A trip to an island off the New England coast—and away from the demands of police work—might be just what is needed to jumpstart Detective Doyle Carrick and Nola Watkins' stalled relationship. But a mysterious plague is killing the island's bees. Nola takes a job at an organic farm hit hard by the disease, working for the rich, handsome, and annoying Teddy, with whom she quickly becomes a little too friendly for Doyle's liking. When Teddy's estranged father offers Doyle a big payday to keep his son out of trouble until he can close a big government contract—and when Doyle meets Annalisa, a beautiful researcher studying the bees—Doyle decides to stick around.
Stoma Corporation, a giant biotech company, moves in with genetically modified super bees that supposedly are the answer to the world's bee crisis. As tension grows between protestors and a private army of thugs, Doyle realizes that bees aren't the only thing being modified. Annalisa's coworkers start to go missing, and she and Doyle uncover a dark, deadly, and terrifying secret. Things spin violently out of control on the tiny island, and when Doyle closes in on what Stoma Corporation is really up to, he must race to stop them before their plot succeeds, and spreads to the mainland and the world.
Deadout is the thrilling follow-up to McGoran's highly acclaimed novel, Drift.
About the Author
JON McGORAN, author of Drift and Deadout, has written about food and sustainability for twenty years, as communication director at Weavers Way Co-op in Philadelphia, and now as editor at Grid magazine. During that time he has also been an advocate for urban agriculture, cooperative development and labeling of genetically engineered foods. He is a founding member of the Philadelphia Liars Club, a group of published authors dedicated to promotion, networking, and service work. He lives in Philadelphia with his wife and son.
Praise For Deadout: A Thriller (Doyle Carrick #2)…
"McGoran fluidly blends science and suspense in his outstanding second eco-thriller starring Philly cop Doyle Carrick... Top-notch plotting enhances McGoran's sympathetic, flawed lead." —Publishers Weekly, starred review
"McGoran brings back Philadelphia detective Doyle Carrick and his girlfriend, Nola, in another intriguing ecothriller that takes the GMO food angle first explored in Drift to a whole new level." —Booklist
"You'll think twice about the food you put into your mouth…this thriller isn't only compelling--it's about something hugely important." —David Morrell, New York Times bestselling author of Murder as a Fine Art, on Drift
"Lots of twists and turns leading to a startling ending. Readers who enjoy Michael Crichton…will find much to enjoy here." —Booklist on Drift
or
Not Currently Available for Direct Purchase