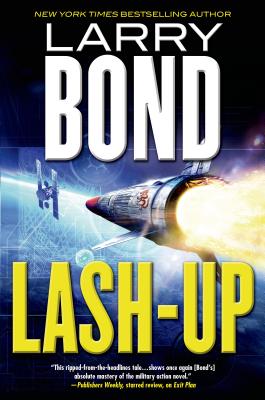 Lash-Up (Hardcover)
Forge Books, 9780765334916, 416pp.
Publication Date: May 5, 2015
Other Editions of This Title:
Digital Audiobook (5/4/2015)
Paperback (5/3/2016)
* Individual store prices may vary.
Description
New York Times bestselling author Larry Bond thrills again in Lash-Up, an explosive new novel. In a bid to dominate Asia and the western Pacific, China provokes a military crisis with the United States and then starts shooting down GPS satellites. America has only a short amount of time to devise some way of protecting its remaining satellites or China will gain an enormous advantage in the coming conflict. The only way the satellites can be protected is from orbit, so an armed spacecraft must be quickly designed, built, and launched to fight on this new battlefield.
A team of soldier-scientists must construct a craft capable of knocking space weapons out of the sky. The fate of the United States rests on the shoulders of these determined people.
About the Author
Larry Bond is the author of several bestselling military thrillers, including Crash Dive, Cold Choices, Dangerous Ground, Red Phoenix and the Larry Bond's First Team and Larry Bond's Red Dragon Rising series. He was a naval officer for six years, serving four on a destroyer and two on shore duty in the Washington DC area. He's also worked as a warfare analyst and antisubmarine technology expert, and he now writes and designs computer games, including Harpoon and Command at Sea. He makes his home in Springfield, Virginia.
Praise For Lash-Up…
Praise for Larry Bond
"Guaranteed to scare the hell out of you . . . you won't be able to put Fatal Thunder down 'til the last page!"
---W. E. B. Griffin, New York Times bestselling author of Top Secret
"Larry Bond is the literary heir of Tom Clancy."
---Stephen Coonts, New York Times bestselling author of The Art of War
"No one is better than Larry Bond at writing the geopolitical military thriller. . . . [He] is a master story teller. The best, bar none!"
---David Hagberg, New York Times bestselling author of Tower Down
"A superb storyteller . . . Bond, a former naval officer, seems to know everything about warfare, from the grunt in a foxhole to the fighter pilots far above the Earth."
---The New York Times on Red Phoenix
"No writer living can produce the depth of political intrigue like Larry Bond."
---Clive Cussler, New York Times bestselling author of Crescent Dawn
"This ripped-from-the-headlines tale . . . shows once again [Bond's] absolute mastery of the military action novel."
---Publishers Weekly (starred review) on Exit Plan
or
Not Currently Available for Direct Purchase