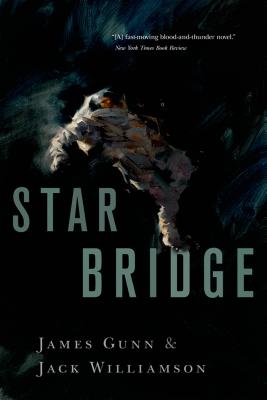 Star Bridge (Paperback)
Tor Books, 9780765335029, 304pp.
Publication Date: November 11, 2014
* Individual store prices may vary.
Description
The galaxy's inhabited planets are held together by the repressive Eron Company, the apparent holder of the secret to faster–than–light travel through the Tubes, the network linking the scattered worlds together. Mysterious parties have hired the adventurer Horn to assassinate the company's general manager, Garth Kohlnar. Horn completes his mission, and in the ensuing manhunt encounters Wendre Kohlnar, the daughter and now possibly the heir of the dead man.
Escaping through a transdimensional Tube, Horn finds himself on the planet Eron, a world consumed by the Eron Company. There he encounters a corrupt aristocracy, a brewing power struggle over the succession, a covert revolution, and the mystery of who actually knows the secret of the Tubes.
James Gunn and Jack Williamson's Star Bridge marks the return of a classic, high-concept space opera by two SF Grand Masters
About the Author
JAMES GUNN is Emeritus Professor of English at K.U. and has published more than a dozen novels and half a dozen collections of stories, and has edited more than a dozen and a half books. His best-known novels are
The Immortals, The Dreamers, The Listeners, Kampus
and
The Joy Makers
.
The Immortals
was filmed as
The Immortal
and became a TV series. His academic publications include
Alternate Worlds: The Illustrated History of Science Fiction, The New Encyclopedia of Science Fiction
, the six-volume anthology
The Road to Science Fiction, The Science of Science-Fiction Writing, Speculations on Speculation: Theories of Science Fiction
and
Inside Science Fiction.
Jack Williamson published his first short story in 1928, and he's been producing entertaining, thought-provoking science fiction ever since. He is the author of Terraforming Earth. The second person named Grand Master by the Science Fiction Writers of America--the first was Robert A. Heinlein--Williamson has always been in the forefront of the field, being the first to write fiction about genetic engineering (he invented the term), anti-matter, and other cutting-edge science. A renaissance man, Williamson is a master of fantasy and horror as well as science fiction. He lives in Portales, New Mexico.
or
Not Currently Available for Direct Purchase