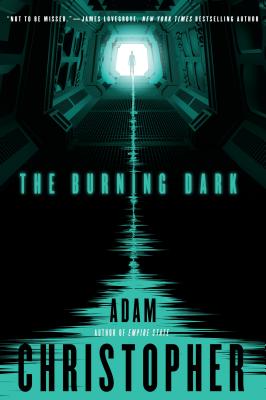 The Burning Dark (Spider War #1) (Paperback)
Tor Books, 9780765335098, 352pp.
Publication Date: March 3, 2015
Other Editions of This Title:
Hardcover (3/25/2014)
* Individual store prices may vary.
Description
Adam Christopher's dazzling first novel, Empire State, was named the Best Book of 2012 by SciFi Now magazine. Here he explores new dimensions of time and space in The Burning Dark.
Back in the day, Captain Abraham Idaho Cleveland had led the Fleet into battle against an implacable machine intelligence capable of devouring entire worlds. After saving a planet, and getting a bum robot knee in the process, he finds himself relegated to one of the most remote backwaters in Fleetspace, overseeing the decommissioning of a semi-deserted space station.
The station's reclusive commandant is nowhere to be seen. Persistent malfunctions plague the station's systems while interference from a toxic purple star makes even ordinary communications problematic. Alien shadows and whispers seem to haunt the lonely corridors and airlocks, fraying the nerves of everyone aboard.
Isolated and friendless, Cleveland reaches out to the universe via an old-fashioned space radio, only to tune in to a strange, enigmatic signal: a woman's voice that echoes across a thousand light-years of space. But is the transmission just a random bit of static from the past—or a warning of an undying menace beyond mortal comprehension?
"Builds tension expertly. Claustrophobic in mood but with the scope of great space opera, this is SF you will want to read with the light on."—Library Journal, starred review, on The Burning Dark
About the Author
Adam Christopher is a novelist and comic writer. In 2010, as an editor, Christopher won a Sir Julius Vogel award, New Zealand's highest science fiction honor. His debut novel, Empire State, was SciFiNow's Book of the Year and a Financial Times Book of the Year for 2012. In 2013, he was nominated for the Sir Julius Vogel award for Best New Talent, with Empire State shortlisted for Best Novel. His other novels include The Age Atomic and The Burning Dark.
Praise For The Burning Dark (Spider War #1)…
"Builds tension expertly. Claustrophobic in mood but with the scope of great space opera, this is SF you will want to read with the light on." —Library Journal, starred review
"An exciting new novel from an exciting new voice in SF." —Booklist
"Christopher has produced a widescreen Hollywood spectacular in novel form. Not to be missed." —James Lovegrove, New York Times bestselling author
"Smart, intricate, and viscerally gripping… Christopher carves a place for himself among the stars of his genre." —V. E. Schwab, author of Vicious
"Christopher mines the terror of a setting that feels both tremendously vast and nerve-wrackingly claustrophobic. The Burning Dark will have readers hesitating before glancing at the night sky or turning on their radios." —Robert Jackson Bennett, author of Mr. Shivers and American Elsewhere
"With this creepy and compelling mystery, Adam Christopher demonstrates why he's one of the most original and exciting writers working in the genre right now." —Gareth L. Powell, author of Ack-Ack Macaque and The Recollection
"Christopher is writing science-fiction unlike anyone else – tense, unsettling, and grounded in a universe full of danger and mystery. The Burning Dark slips a cold, gloved hand around your heart and doesn't let go."--Jen Williams, author of The Copper Promise"A riveting SF mystery reminiscent of Shirley Jackson's The Haunting of Hill House." —Martha Wells, author of Star Wars: Empire and Rebellion: Razor's Edge