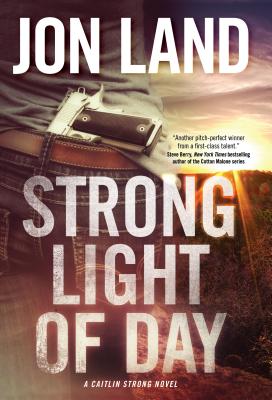 Strong Light of Day (Hardcover)
A Caitlin Strong Novel (Caitlin Strong Novels #7)
Forge Books, 9780765335128, 352pp.
Publication Date: October 13, 2015
Other Editions of This Title:
Mass Market (8/2/2016)
* Individual store prices may vary.
Description
Texas ranger Caitlin Strong is involved in an international plot rooted in secrets from the Cold War in Strong Light of Day, the seventh installment of Jon Land's New York Times bestselling Caitlin Strong series
Caitlin Strong is a fifth generation Texas Ranger as quick with her wits as she is with her gun. Over the years she's taken on all manner of criminals and miscreants, thwarting the plans of villains to do vast damage to the country and state she loves. But none of that has prepared Caitlin for an investigation that pits her against ruthless billionaire oilman Calum Dane, whose genetically engineered pesticide may have poisoned a large swath of the state.
How that poisoning is connected to the disappearance of thirty high school students from a Houston prep school, including the son of her outlaw lover Cort Wesley Masters, presents Caitlin with the greatest and most desperate challenge of her career. As if that wasn't enough, she also has to deal with a crazed rancher whose entire herd of cattle has been picked clean to the bone by something science can't explain.
The common denominator between these apparently disparate events is a new and deadly enemy capable of destroying the US economy and killing millions, a foe it will take far more than bullets to bring down. There's yet another player in the deadly game Caitlin finds herself playing: Russian extremists prepared to seize an opportunity to win a war they never stopped fighting.
Caitlin's race to save the United States weaves through the present and the past, confronting her and Cort Wesley with the most powerful and dangerous enemies they've ever faced, human and otherwise. The Cold War hasn't just heated up; it's boiling over under the spill of a strong light only Caitlin can extinguish before it's too late.
About the Author
JON LAND is the USA Today bestselling author of more than 37 novels, including Strong Enough to Die, Strong Justice, Strong at the Break, Strong Vengeance, Strong Rain Falling (winner of the 2014 International Book Award and 2013 USA Best Book Award for Mystery-Suspense), and Strong Darkness (winner of the 2014 USA Books Best Book Award and the 2015 International Book Award for Thriller). He's a 1979 graduate of Brown University, lives in Providence, Rhode Island.
Praise For Strong Light of Day: A Caitlin Strong Novel (Caitlin Strong Novels #7)…
"Jon Land is a writer's writer. I've been reading him for a long time. He packs every story with menace and peril, providing a feast for any thriller aficionado. In Caitlin Strong he's crafted an alpha heroine who's fresh and poignant and heaping with adrenalin. Strong Light of Day is another pitch-perfect winner from a first class talent." —Steve Berry, New York Times bestselling author of The Patriot Threat
"Strong Light of Day lives up to its name, an adrenaline-packed, tension soaked thrill ride that's a topnotch addition to an already terrific series." —Lisa Gardner, New York Times bestselling author of Crash and Burn
"For year's I've been a fan of Jon Land's books, but with Strong Light of Day he's outdone himself. Great plotting, incredible character development, and all the key ingredients for a great mystery novel. Unlike most thrillers, which I'll read and forget or lend to friends, this one will be reread and will be sitting over my desk for years to come." —Strand Magazine
or
Not Currently Available for Direct Purchase