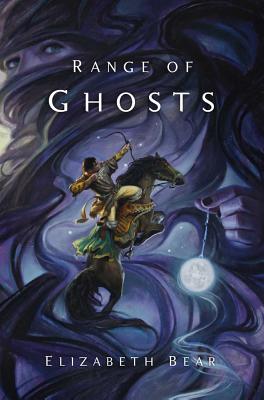 Range of Ghosts (The Eternal Sky #1) (Paperback)
Tor Books, 9780765335364, 352pp.
Publication Date: January 29, 2013
Other Editions of This Title:
Digital Audiobook (5/10/2012)
Hardcover (3/27/2012)
* Individual store prices may vary.
Description
A powerful new fantasy from Hugo award–winning author Elizabeth Bear, Range of Ghosts creates a world both deep and broad, where a sorcerer-prince seeks world domination for the glory of his God.

Temur, grandson of the Great Khan, is walking from a battlefield where he was left for dead. All around lie the fallen armies of his cousin and his brother who made war to rule the Khaganate. Temur is now the legitimate heir by blood to his grandfather's throne, but he is not the strongest. Going into exile is the only way to survive his ruthless cousin.

Once-Princess Samarkar is climbing the thousand steps of the Citadel of the Wizards of Tsarepheth. She was heir to the Rasan Empire until her father got a son on a new wife. Then she was sent to be the wife of a Prince in Song, but that marriage ended in battle and blood. Now she has renounced her worldly power to seek the magical power of the wizards.

These two will come together to stand against the hidden cult that has so carefully brought all the empires of the Celadon Highway to strife and civil war through guile and deceit and sorcerous power.

The Eternal Sky Trilogy
#1 Range of Ghosts
#2 Shattered Pillars
#3 Steles of the Sky
About the Author
Elizabeth Bear shares a birthday with Frodo and Bilbo Baggins. This, coupled with a tendency to read the dictionary as a child, doomed her early to penury, intransigence, friendlessness, and the writing of speculative fiction. She was born in Hartford, Connecticut, and grew up in central Connecticut with the exception of two years (which she was too young to remember very well) spent in Vermont's Northeast Kingdom, in the last house with electricity before the Canadian border.

She's a second-generation Swede, a third-generation Ukrainian, and a third-generation Transylvanian, with some Irish, English, Scots, Cherokee, and German thrown in for leavening. Elizabeth Bear is her real name, but not all of it. Her dogs outweigh her, and she is much beset by her cats.

Bear was the recipient of the John W. Campbell Award for Best New Writer in 2005. She has won two Hugo Awards for her short fiction, a Sturgeon Award, and the Locus Award for Best First Novel. She is the author of the acclaimed Eternal Sky series, the Edda of Burdens series, and coauthor (with Sarah Monette) of the Iskryne series. Bear lives in Brookfield, Massachusetts.
Praise For Range of Ghosts (The Eternal Sky #1)…
Book Riot's List of 50 Best Epic Fantasy Series, Eternal Sky trilogy

"This lean, sinewy, visceral narrative, set forth in extraordinarily vivid prose full of telling detail, conveys a remarkable sense of time and place, where the characters belong to the landscape and whose personalities derive naturally from it." —Kirkus Reviews, starred review

"Elizabeth Bear launches a trilogy in a fantastic new world with this compelling tale…Bear creates a vivid world where wizards must sacrifice their ability to procreate in order to control magic and the sky changes to reflect the gods of the land's rulers. The strong setting and engaging characters will have readers eager for the second installment." —Publishers Weekly