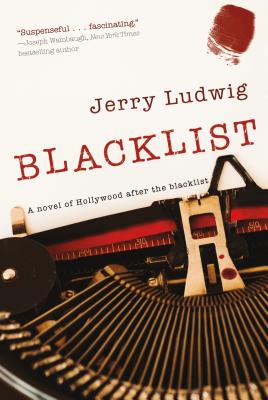 Blacklist
A Novel
Paperback

* Individual store prices may vary.
Other Editions of This Title:
MP3 CD (7/1/2014)
Hardcover (6/10/2014)
Compact Disc (7/1/2014)
Description
The last time the United States looked on its own citizens with suspicion, the results were ruined dreams, shattered lives…and murder in Jerry Ludwig's Blacklist

Today, people point fingers and shout, "terrorist!" Not long ago, the accusation was "Communist!" Many who testified before the House UnAmerican Activities Committee said they did so out of desperation and fear. Those who refused to speak were fired or blacklisted. Others fled rather than betray friends…or their belief in American liberty.
David Weber and Jana Vardian were Hollywood's golden children; their fathers, successful screenwriters, mingled with stars and studio moguls. Then HUAC shattered their idyll, sending David and his parents into exile in Europe; Jana's father testified and soon became a famous director.
Returning to Los Angeles as an adult to bury his father, David comes to the attention of FBI agent Brian McKenna, who is still eager for a big case. The somewhat jaded McKenna remains eager for a big case. Jana Vardian watched her father torture himself after testifying; David's return painfully reminds her that she once believed in love and loyalty.
When people with ties to HUAC and to David's father begin turning up dead, long-buried secrets are dragged into the open. McKenna quickly tags David as the prime suspect, but in a world where special effects can turn a man into a beast, Hollywood's sheen of glamour cannot long mask its dark past.
Praise For Blacklist: A Novel…
"An intense, vivid kaleidoscope of a serious novel masquerading as a whodunit." —John Weisman, New York Times bestselling author
"Talk about an epoch of dishonest politicians, unscrupulous media, and endemic contempt for the Bill of Rights! Jerry Ludwig serves up a solid pro's view of the movie business during the deadliest years of the Cold War." —Michael Butler, co-screenwriter of Clint Eastwood's Pale Rider
"Absolutely riveting. Passionate and principled and sometimes very funny…a cautionary tale about an America when our biggest enemies were secrecy and silence." —Patricia Bosworth, author of Anything Your Little Heart Desires
"Blacklist is deeply, humanely evocative of a time that Hollywood would rather forget, which is why it teaches us some bitter lessons from the past that can probably help us live better and wiser in the present--and the future." —John Weisman, New York Times bestselling author
"Memorably offbeat, with fabulous snippets of the bygone Hollywood studio/contract players era, superbly etched cameos for Bogie, Burt Lancaster, and the all-powerful colonel, Jack L. Warner, and a dour insider's view of the motional ruffians the business attracts." —Kirkus Reviews on Getting Garbo
Forge Books, 9780765335401, 416pp.
Publication Date: May 12, 2015
About the Author
JERRY LUDWIG is a multiple-Emmy Award–nominated writer for television. He has been nominated for the Golden Globe and the Mystery Writers of America's Edgar Award for TV writing; he has also won the Writers Guild of America Award. Ludwig has written for Murder, She Wrote; MacGyver; Mission: Impossible; and Hawaii Five-O. Jerry Ludwig lives in Carmel, California.
or
Not Currently Available for Direct Purchase