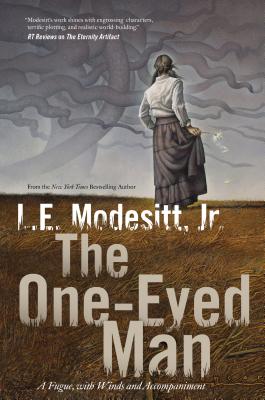 The One-Eyed Man (Hardcover)
A Fugue, with Winds and Accompaniment
Tor Books, 9780765335449, 364pp.
Publication Date: September 17, 2013
Other Editions of This Title:
Compact Disc (9/17/2013)
Mass Market (7/29/2014)
MP3 CD (9/17/2013)
Compact Disc (9/17/2013)
* Individual store prices may vary.
Description
The colony world of Stittara is no ordinary planet. For the interstellar Unity of the Ceylesian Arm, Stittara is the primary source of anagathics: drugs that have more than doubled the human life span. But the ecological balance that makes anagathics possible on Stittara is fragile, and the Unity government has a vital interest in making sure the flow of longevity drugs remains uninterrupted, even if it means uprooting the human settlements.
Offered the job of assessing the ecological impact of the human presence on Stittara, freelance consultant Dr. Paulo Verano jumps at the chance to escape the ruin of his personal life. He gets far more than he bargained for: Stittara's atmosphere is populated with skytubes gigantic, mysterious airborne organisms that drift like clouds above the surface of the planet. Their exact nature has eluded humanity for centuries, but Verano believes his conclusions about Stittara may hinge on understanding the skytubes' role in the planet's ecology if he survives the hurricane winds, distrustful settlers, and secret agendas that impede his investigation at every turn.
"The One-Eyed Man is "a thrilling new far-future science fiction novel from "New York Times "bestseller L. E. Modesitt, Jr.
About the Author
L. E. MODESITT, JR., is the New York Times bestselling author of over sixty novels encompassing two science fiction series and three fantasy series, including the saga of Recluce. He lives in Cedar City, Utah.
Praise For The One-Eyed Man: A Fugue, with Winds and Accompaniment…
"A provocative, enthralling story."
—Booklist on Empress of Eternity

"Modesitt presents three very different civilizations confronted with relevant problems, and interweaves their fate with some seriously challenging and intriguing speculations on the nature of time itself…. [Modesitt] approaches his best when combining practicalities with new ideas."
—Kirkus Reviews on Empress of Eternity

"Action-packed space opera-cum-hard-boiled detective story. Modesitt cleverly weaves together disparate threads of information to form a complete tapestry."
—Publishers Weekly on The Elysium Commission
"This psychological sf thriller by the prolific author of the multivolume "Recluce" fantasy series incorporates carefully delineated characters with believable far-future scenarios. Modesitt's fans as well as readers of hard sf should appreciate this story of imminent interstellar war."
—Library Journal on Haze

"Independent science-fiction consciousness-raiser, from the versatile and dependable Modesitt."
—Kirkus Reviews on Haze

"Superior science-fiction adventure writing. The plot moves compellingly, the characters are distinct and identifiable."
—Science Fiction Weekly on The Eternity Artifact
or
Not Currently Available for Direct Purchase