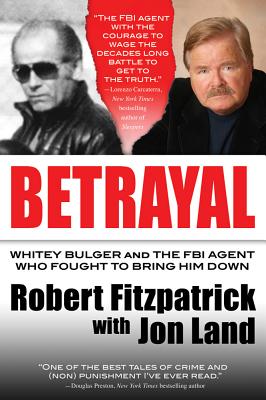 Betrayal (Hardcover)
Whitey Bulger and the FBI Agent Who Fought to Bring Him Down
Forge, 9780765335517, 334pp.
Publication Date: January 3, 2012
Other Editions of This Title:
Digital Audiobook (3/25/2012)
Paperback (1/3/2012)
Compact Disc (3/26/2012)
Hardcover, Large Print (4/20/2012)
MP3 CD (3/26/2012)
Compact Disc (3/26/2012)
* Individual store prices may vary.
Description
The Jack Nicholson film "The Departed "didn't tell half of their story. A poor kid from the slums, Robert Fitzpatrick grew up to become a stellar FBI agent and challenge the country's deadliest gangsters. Relentless in his desire to catch, prosecute, and convict Whitey Bulger, Fitzpatrick fought the nation's most determined cop-gangster battle since Melvin Purvis hunted, confronted, and killed John Dillinger.
In his crusade to bring Bulger to justice, Fitzpatrick faced not only Whitey but also corrupt FBI agents, along with political cronies and enablers from Boston to Washington who, in one way or another, blocked his efforts at every step. Even when Fitzpatrick discovered the very organization to which he had sworn allegiance was his biggest obstacle, the agent continued to pursue Whitey and his gang . . . knowing that they were prepared to murder anyone who got in their way.
About the Author
ROBERT FITZPATRICK spent twenty-plus years as an FBI agent and chief in a career highlighted by his involvement in the Martin Luther King, Jr. killing and the ABSCAM investigation in Miami that resulted in the indictments of numerous public officials. He played a key role in the famed "Mississippi Burning" investigation and recovered the rifle that was used in the MLK assassination and that ultimately led to the arrest of James Earl Ray.JON LAND is the critically acclaimed author of thirty novels, including the bestselling series featuring female Texas Ranger Caitlin Strong: "Strong Enough to Die, " "Strong Justice, " and "Strong at the Break." He lives in Providence, Rhode Island.
Praise For Betrayal: Whitey Bulger and the FBI Agent Who Fought to Bring Him Down…
"This is a stupendous read, as electrifying as Mystic River but even more horrifying for being absolutely true. Betrayal is a page-turner of the highest order. You will not be able to put this book down—guaranteed."
---Douglas Preston, New York Times bestselling author of Impact

"A rapid-fire tale told with a passion that is a testament to the agent with the courage to wage the decades-long battle to get to the truth."
---Lorenzo Carcaterra,  New York Times bestselling author of Sleepers
"Jon Land elegantly captures the voice of FBI chief Robert Fitzpatrick as he battles his fellow agents to get to the truth behind the blood-soaked reign of gangster Whitey Bulger. Terrifying in scope and scathing in message, Betrayal is a must-read."
---Robert K. Tanenbaum, New York Times bestselling author of Outrage

"Jon Land writes great fiction, and Betrayal reads like the best of it. The fact that it's true makes the story all the more riveting. . . . A sobering indictment of our law enforcement system and one man's relentless quest to see justice done."
---Robert Leuci, subject of the New York Times bestselling biography Prince of the City