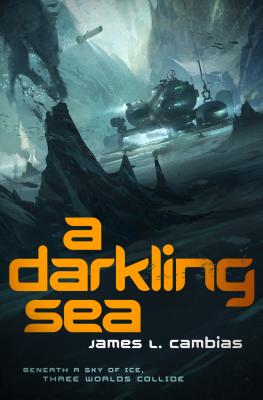 A Darkling Sea (Paperback)
A Novel
Tor Books, 9780765336286, 352pp.
Publication Date: February 3, 2015
Other Editions of This Title:
Hardcover (1/28/2014)
Compact Disc (2/3/2015)
MP3 CD (2/3/2015)
Compact Disc (2/3/2015)
* Individual store prices may vary.
Description
On the planet Ilmatar, under a roof of ice a kilometer thick, a team of deep-sea diving scientists investigates the blind alien race that lives below. The Terran explorers have made an uneasy truce with the Sholen, their first extraterrestrial contact: so long as they don't disturb the Ilmataran habitat, they're free to conduct their missions in peace.
But when Henri Kerlerec, media personality and reckless adventurer, ends up sliced open by curious Ilmatarans, tensions between Terran and Sholen erupt, leading to a diplomatic disaster that threatens to escalate to war.
Against the backdrop of deep-sea guerrilla conflict, a new age of human exploration begins as alien cultures collide. Both sides seek the aid of the newly enlightened Ilmatarans. But what this struggle means for the natives—and the future of human exploration—is anything but certain, in A Darkling Sea by James Cambias.
About the Author
James L. Cambias, the author of A Darkling Sea, has been nominated for the Nebula Award, the James Tiptree Jr. Award, and the 2001 John W. Campbell Award for Best New Writer. He lives in Western Massachusetts.
Praise For A Darkling Sea: A Novel…
"An impressive debut by a gifted writer." —Publishers Weekly, Starred Review
"An exceptionally thoughtful, searching and intriguing debut." —Kirkus, Starred Review
"Like Silverberg, who developed fully realized alien societies in such novels as Downward to the Earth (to which this novel bears some thematic resemblance), Cambias makes the Sholen and Ilmataran people and cultures as real as the more familiar human component. Beautifully written, with a story that captures the imagination the way SF should." —Booklist, Starred Review
"A stunning debut! Alien races to rival Larry Niven, world-building to rival Hal Clement, and lots of rip-roaring adventure. James Cambias will be one of the century's major names in hard science fiction." —Robert J. Sawyer, Hugo Award-winning author of Red Planet Blues
"Fast-paced, pure quill hard science fiction.... Cambias delivers adroit plot pivots that keep the suspense coming." —Gregory Benford, Nebula Award-winning author of Timescape
"This is great fun--traditional science fiction but with today's science. And I love the aliens." —Jo Walton, Hugo, Nebula and World Fantasy Award-winning author of Among Others
"The best story about an alien race and its environment that I've read in a long time. Cambias is in the same league as Hal Clement." —Vernor Vinge, Hugo Award-winning author of A Fire Upon the Deep
"Cambias's exploration of truly alien politics is fast, fun, and packed with characters you'll cheer for. It's exciting to welcome an exuberant new voice to the ranks of hard science fiction!" —Karl Schroeder, author of Ventus
"A compelling read." —Michael Flynn, author of On the Razor's Edge
"A fascinating exploration of alien lives at the extreme edges of an alien world." —Brenda Cooper, award-winning author of The Silver Ship and the Sea
or
Not Currently Available for Direct Purchase