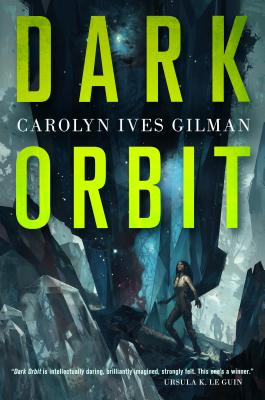 Dark Orbit
A Novel
Hardcover

* Individual store prices may vary.
Other Editions of This Title:
Digital Audiobook (7/13/2015)
Paperback (5/10/2016)
Compact Disc (7/14/2015)
MP3 CD (7/14/2015)
Compact Disc (7/14/2015)
Description
From Nebula and Hugo Award–nominated Carolyn Ives Gilman comes Dark Orbit, a compelling novel featuring alien contact, mystery, and murder.
Reports of a strange, new habitable planet have reached the Twenty Planets of human civilization. When a team of scientists is assembled to investigate this world, exoethnologist Sara Callicot is recruited to keep an eye on an unstable crewmate. Thora was once a member of the interplanetary elite, but since her prophetic delusions helped mobilize a revolt on Orem, she's been banished to the farthest reaches of space, because of the risk that her very presence could revive unrest.
Upon arrival, the team finds an extraordinary crystalline planet, laden with dark matter. Then a crew member is murdered and Thora mysteriously disappears. Thought to be uninhabited, the planet is in fact home to a blind, sentient species whose members navigate their world with a bizarre vocabulary and extrasensory perceptions.
Lost in the deep crevasses of the planet among these people, Thora must battle her demons and learn to comprehend the native inhabitants in order to find her crewmates and warn them of an impending danger. But her most difficult task may lie in persuading the crew that some powers lie beyond the boundaries of science.
Praise For Dark Orbit: A Novel…
iO9 Very Best Science Fiction and Fantasy Books of 2015
Kirkus Reviews essential speculative fiction reads for July 2015
Best New Sci-Fi/Fantasy Books of 2015 for July—Nerd Underground
"Wonderfully rich" –Portland Book Review
"Gilman intriguingly weaves together two plotlines: The scientific, theological, and political point of view on the Escher, as well as the sense of community under the surface of Iris. Thora's metaphysical point of view is narrated through her audio diary as we learn about her past, the stress of adapting to total darkness, and the valuable skills she learns from the natives. Both plots are thought-provoking and play well off of each other. The satisfying, yet open-ended conclusion left me wanting more." —The Nameless Zine
"DARK ORBIT is old school in ways that fans of classic sci-fi will find delightful: new planets! Weird spaceships! Strange societies! Alien flora and fauna! Reality-warping space! But it also feels modern—uncalcified and unfussy, bold and unexpected." —The Portland Mercury
"Regardless of what type of science fiction enthusiast you are, you will find something wonderful in Dark Orbit … Add into that incredibly unique and wonderfully realized challenges that really push the boundaries of where-no-one-has-gone-before, and you have a book that's well worth the read, even if you aren't a hardened science fiction fan." —LitStack
"She delves into thought-provoking speculative science one expects alongside philosophy as ancient as Plato's cave. Dark Orbit is a stimulating and absorbing story." –Shelf Awareness
"The story jumps from espionage to murder to first contact to philosophy at dizzying speeds" —Publishers Weekly

"Dark Orbit is a peculiar novel, by turns sharp and gentle, cynical and idealistic, empiricist and mystical. But its characters are strongly drawn, its universe is richly sketched, and its prose is sheer delight. It is deeply compelling in its peculiarities, and probably one of the best novels of science fiction that I've read in the last few years. And it's fascinating." —Tor.com
"Dark Orbit is set in the same Twenty Planets universe as Gilman's 2010 novel Halfway Human. Comparisons to Ursula K. LeGuin are inevitable (and not unwarranted), but Dark Orbit has a strong thread of thriller-like suspense that keeps one turning the pages. I think a more apt comparison is to the work of James Tiptree, Jr." —Analog
"Dark Orbit is a well-paced and engaging story that doesn't disappoint. The mystery and intrigue builds to a climactic ending with several surprises along the way." –Science Fiction Book Club
"Dark Orbit is a fast-paced and grippingly written sci-fi thriller, full of interesting ideas." –Open Letters Monthly
"Not only did I find it highly original in some of its concepts, it also left me feeling a bit nostalgic for the science fiction heyday of authors like Harry Harrison and James E. Gunn." —SF Revu
"thought-provoking science-fiction" –Bibliosanctum
"Blending mystery, philosophy, and science gracefully in a twisty plot, Gilman has written a challenging but ultimately satisfying space adventure that explores how the most basic preconceptions can distort our outlook. It's a winner for any sf fan …" —Library Journal
"Dark Orbit is a striking work of science fiction, and knowledge—self-knowledge, and how the knowledge of other people can shape a person—is at its heart. It is sharp and glittering and rather more interested in the philosophy of its physics than it is in the science. It's also a novel about First Contact and the limits of science's ability to classify data that cannot be seen. And damn, is it one hell of a novel." —Tor.com
" A novel that will make you think about perception, human nature—even the nature of reality—while remaining consistently gripping and moving. Gilman manages to both dig deep into some pretty abstract and philosophically compelling ideas while writing a hell of a 'first contact' narrative and also touching on issues that are very much alive in our lives today. The ending may leave you wanting more, but even on its own, Dark Orbit remains thought-provoking days later." —RT Book Reviews Top Pick, 4 ½ stars
"Gilman has created a breathtakingly strange new world, and she's populated it with vivid, compelling characters. A thoroughly engrossing story with a fast-paced plot, memorable characters, and big ideas, this book is science fiction at its very best." —Kirkus (starred review)
Tor Books, 9780765336293, 304pp.
Publication Date: July 14, 2015
About the Author
CAROLYN IVES GILMAN is a Nebula and Hugo Award-nominated writer of science fiction and fantasy. Her novels include Halfway Human and the two-volume novel Isles of the Forsaken and Ison of the Isles. Her short fiction appears in many Best of the Year collections and has been translated into seven languages. She lives in Washington, D.C., and works for the National Museum of the American Indian.
or
Not Currently Available for Direct Purchase