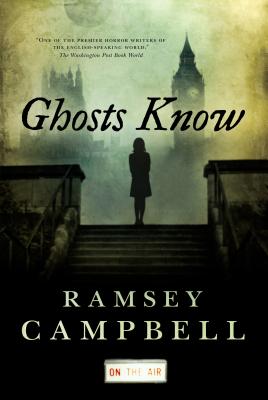 Ghosts Know
Hardcover

* Individual store prices may vary.
Description
Ramsey Campbell's Ghosts Know is a fascinating exploration of the twists and turns of reality-media personalities, the line between the dead and the living…and how the truth can be twisted to serve all manner of reality.
Graham Wilde is a contentious, bombastic host of the talk radio program Wilde Card. His job, as he sees it, is to stir the pot, and he is quite good at it, provoking many a heated call with his eccentric and often irrational audience. He invites Frank Jasper, a purported psychic, to come on the program. He firmly believes that the man is a charlatan, albeit a talented one. When Jasper appears on his show, Wilde draws upon personal knowledge about the man to embarrass him on air, using patter similar to that which Jasper utilizes in his act.
Wilde's attack on Jasper earns him the enmity of his guest and some of the members of his audience. He next encounters Jasper when the psychic is hired by the family of a missing adolescent girl to help them find her. Wilde is stunned and then horrified when Jasper seems to suggest that he might be behind the girl's disappearance.
Thus begins a nightmarish journey as circumstantial evidence against Wilde begins to mount, alienating his listeners, the radio station, and eventually, his lover. As Wilde descends into a pit of despair, reality and fantasy begin to blur in a kaleidoscope of terror….
Praise For Ghosts Know…
"Campbell is in top form, cleverly pulling readers' strings at every turn."—Publishers Weekly
Tor Books, 9780765336330, 288pp.
Publication Date: October 1, 2013
About the Author
Ramsey Campbell has won more awards than any other living author of horror or dark fantasy, including four World Fantasy Awards, nine British Fantasy Awards, three Bram Stoker Awards, and two International Horror Guild Awards. Critically acclaimed both in the US and in England, Campbell is widely regarded as one of the genre's literary lights for both his short fiction and his novels. His classic novels, such as The Face that Must Die, The Doll Who Ate His Mother, and The Influence, set new standards for horror as literature.  His collection, Scared Stiff, virtually established the subgenre of erotic horror.
 
Ramsey Campbell's works have been published in French, German, Italian, Spanish, Japanese, and several other languages. He has been President of the British Fantasy Society and has edited critically acclaimed anthologies, including Fine Frights. Campbell's best known works in the US are Obsession, Incarnate, Midnight Sun, and Nazareth Hill.
or
Not Currently Available for Direct Purchase