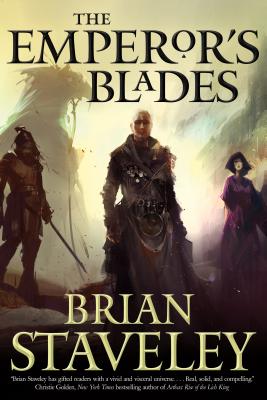 The Emperor's Blades
Chronicle of the Unhewn Throne, Book I
Paperback

* Individual store prices may vary.
Other Editions of This Title:
MP3 CD (1/14/2014)
MP3 CD (5/2/2017)
Compact Disc (8/26/2014)
MP3 CD (1/14/2014)
Compact Disc (1/14/2014)
Compact Disc (1/14/2014)
MP3 CD (8/26/2014)
Hardcover, Large Print (11/1/2014)
Mass Market Paperbound (5/2/2017)
Description
In The Emperor's Blades by Brian Staveley, the emperor of Annur is dead, slain by enemies unknown. His daughter and two sons, scattered across the world, do what they must to stay alive and unmask the assassins. But each of them also has a life-path on which their father set them, destinies entangled with both ancient enemies and inscrutable gods.

Kaden, the heir to the Unhewn Throne, has spent eight years sequestered in a remote mountain monastery, learning the enigmatic discipline of monks devoted to the Blank God. Their rituals hold the key to an ancient power he must master before it's too late.

An ocean away, Valyn endures the brutal training of the Kettral, elite soldiers who fly into battle on gigantic black hawks. But before he can set out to save Kaden, Valyn must survive one horrific final test.

At the heart of the empire, Minister Adare, elevated to her station by one of the emperor's final acts, is determined to prove herself to her people. But Adare also believes she knows who murdered her father, and she will stop at nothing—and risk everything—to see that justice is meted out.

Chronicle of the Unhewn Throne
The Emperor's Blades
The Providence of Fire
The Last Mortal Bond

Other books in the world of the Unhewn Throne
Skullsworn (forthcoming)
Praise For The Emperor's Blades: Chronicle of the Unhewn Throne, Book I…
"A complex and richly detailed world filled with elite soldier-assassins, mystic warrior monks, serpentine politics, and ancient secrets. Readers of Sara Douglass's Wayfarer novels and George R.R. Martin's Song of Ice and Fire series should enjoy this opener." —Library Journal, starred review

"Will hold your attention until the last page. This intense novel is impossible to put down." —RT Book Reviews

"Filled to the brim with history, lore and potential…a modern epic fantasy mixed in with a nice dose of Lovecraftian weirdness." —io9

"Familiar ingredients come to life in the hands of a promising new master chef." —Locus

"Staveley creates a richly layered world that melds together elements of ancient magic, religion, political intrigue and battles large and small. The suspense is relentless and the moral compromises the protagonists confront, often accompanied by violence, are wrenching." —Shelf Awareness

"An enchanting union of old and new, Staveley's debut will keep you turning pages late into the night." —Pierce Brown, New York Times bestselling author of Red Rising

"Come for the intrigue, assassination, death priests, black-ops bird riders, and giant poisonous hive-lizards. Stay for Staveley's characters, his language, and his way-cool fantasy Zen." —Max Gladstone, author of the Craft Sequence

" Intricate characters, complex relationships, and plots within plots... these are the hallmarks of great fantasy and Staveley succeeds across the board. A brilliant debut!" —Jason Hough, New York Times bestselling author of The Darwin Elevator

"Takes a story of family, loss, conspiracy and revenge and gives it new legs. It's epic fantasy with a sharp, jagged edge to it, a modern sensibility, prose as tight as the leather wrapped around a sword's hilt, and characters that you can relate to and give a damn about. I look forward to the next installment of Staveley's chronicle." —R. S. Belcher, author of The Six-Gun Tarot
Tor Books, 9780765336439, 496pp.
Publication Date: August 26, 2014
About the Author
BRIAN STAVELEY has taught literature, religion, history, and philosophy, and holds an MA in poetry from Boston University. His books, which have been translated into over a dozen languages, include The Empire's Ruin, The Emperor's Blades, The Providence of Fire, The Last Mortal Bond, and Skullsworn. He lives in Vermont and divides his time between running trails, splitting wood, writing, and chasing his son downhill on a mountain bike.