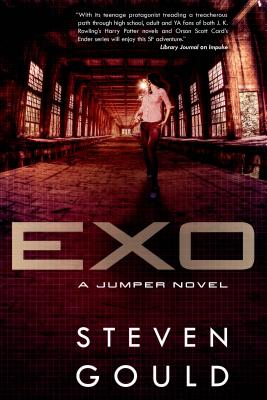 Exo (Hardcover)
A Jumper Novel
Tor Books, 9780765336545, 464pp.
Publication Date: September 9, 2014
Other Editions of This Title:
Mass Market (8/4/2015)
MP3 CD (8/4/2015)
MP3 CD (11/4/2014)
* Individual store prices may vary.
Description
Award-winning author, Steven Gould, returns to the world of his classic novel Jumper in Exo, the sequel to Impulse, blending the drama of high school with world shattering consequences.
Cent can teleport. So can her parents, but they are the only people in the world who can. This is not as great as you might think it would be—sure, you can go shopping in Japan and then have tea in London, but it's hard to keep a secret like that. And there are people, dangerous people, who work for governments and have guns, who want to make you do just this one thing for them. And when you're a teenage girl things get even more complicated. High school. Boys. Global climate change, refugees, and genocide. Orbital mechanics.
But Cent isn't easily daunted, and neither are Davy and Millie, her parents. She's going to make some changes in the world.
About the Author
STEVEN GOULD is the author of the beloved classic Jumper, basis for the 2008 film of the same name, as well as Wildside, Helm, Blind Waves, Reflex, and Jumper: Griffin's Story. He is the recipient of the Hal Clement Young Adult Award for Science Fiction and has been nominated for both the Hugo and the Nebula awards. Gould lives in New Mexico with his wife, writer Laura J. Mixon.
Praise For Exo: A Jumper Novel…
"The question is, What is she prepared to risk in order to live the kind of life her special gift opens up for her? Like its predecessors, the novel straddles the line between YA and adult fiction; its lead character is a teen, but the story has many adult-themed elements, and its writing seems geared more toward older readers.... Fans of the series should give this one an enthusiastic response." —Booklist
"Gould literally raises the bar on teleportation in this sequel to Impulse.... Gould grows more ambitious with every book in the Jumper series. He began by mixing speculative fiction, adventure and bildungsroman, then added in political and corporate thriller; this novel is primarily hard sci-fi while maintaining the other genres. By constantly experimenting with new tropes and extending the limits of the Harrison-Rice family's power to teleport, Gould ensures that each installment remains fresh and enthralling. As in the previous book, Cent's genius and her social skills (considering that she's been discouraged from creating close bonds with anyone outside her immediate family) seem almost more unusual than her teleporting ability, but her character has an intellectual and emotional validity as well as an inherent likability that encourages the reader to overlook those quibbles. There's simply no knowing where Cent and this series are headed next...but it'll sure be interesting to find out." —Kirkus Reviews, starred review
"In the Jumper books, Steven Gould does a superb job of the old science fiction game of 'what if?'--postulating a change, and then exhaustively examining all the implications.... Cent is a thoroughly modern teenager, intelligent and witty, irreverent and yet insecure. It's a pleasure to see her tackle a new challenge. As usual, Exo is more than a simple adventure story; issues of morality, responsibility, and personal growth suffuse the narrative. With any luck, this won't be the last story of the happy Rice family." —Analog
"[Gould's] gift is in writing about extraordinary things in a very ordinary way with humor and matter-of-factness and it's never been on display so much as here…. While Exo is still very much Gould's style, this time I also got a whiff of the space-station worldbuilding of Allen M. Steele and John Verley, and a strong flavor of the old Heinlein juveniles when Robert A. Heinlein wrote engineers as heroes and orbital mechanics as something integral to the plot. Since all three are favorite authors of mine, this is a Good Thing. Gould manages the trick of including just enough science to make Exo fascinating and barely plausible without getting so far into technobabble that I felt lost…. I read it in two big gulps, pulled along by the voices of the characters and the magnitude of what they were attempting, and I closed it wanting to know what would happen next in a very different world. That's a hint, Mr. Gould." —News-Journal, Daytona Beach
or
Not Currently Available for Direct Purchase