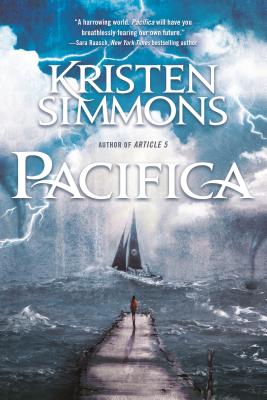 Pacifica (Hardcover)
Tor Teen, 9780765336637, 384pp.
Publication Date: March 6, 2018
* Individual store prices may vary.
Description
"A harrowing world. Pacifica will have you breathlessly fearing our own future."--Sara Raasch, New York Times bestselling author
Blue skies. Green grass. Clear ocean water. An island paradise like the ones that existed before the Melt.
A lucky five hundred lottery winners will be the first to go, the first to leave their polluted, dilapidated homes behind and start a new life. It sounds perfect. Like a dream.
The only problem? Marin Carey spent her childhood on those seas and knows there's no island paradise out there. She's corsario royalty, a pirate like her father and his father before him, and she knows a con when she sees one. So where are the First Five Hundred really going?
"A bleak, futuristic world that's utterly believable and terrifying, and yet from out of it springs the greatest of hope, carried on the back of its fierce main characters. I was swept away." --Mindee Arnett, author of Avalon
About the Author
Kristen Simmons is the author of the ARTICLE 5 series, THE GLASS ARROW and METALTOWN. She has worked with survivors of abuse and trauma as a mental health therapist, taught Jazzercise in five states, and is forever in search of the next best cupcake. Currently she lives in Cincinnati, Ohio with her husband, where she spends her days supporting the caffeine industry and chasing her delightfully rambunctious son.