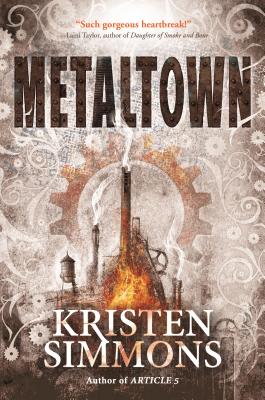 Metaltown
Paperback

* Individual store prices may vary.
Other Editions of This Title:
Hardcover (9/20/2016)
Description
An enthralling YA story of friendship and rebellion from the acclaimed author of Article 5 and Glass Arrow.

Kristen Simmons's Metaltown, where factories rule, food is scarce, and hope is in short supply.

The rules of Metaltown are simple: Work hard, keep your head down, and watch your back. You look out for number one, and no one knows that better than Ty. She's been surviving on the factory line as long as she can remember. But now Ty has Colin. She's no longer alone; it's the two of them against the world. That's something even a town this brutal can't take away from her. Until it does.
Lena's future depends on her family's factory, a beast that demands a ruthless master, and Lena is prepared to be as ruthless as it takes if it means finally proving herself to her father. But when a chance encounter with Colin, a dreamer despite his circumstances, exposes Lena to the consequences of her actions, she'll risk everything to do what's right.
In Lena, Ty sees an heiress with a chip on her shoulder. Colin sees something more. In a world of disease and war, tragedy and betrayal, allies and enemies, all three of them must learn that challenging what they thought was true can change all the rules.
An enthralling story of friendship and rebellion, Metaltown will have you believing in the power of hope.
Praise For Metaltown…
"I'm clutching my mangled heart and smiling madly. It's that kind of book. Such gorgeous heartbreak! Ty, Colin, and Lena owned me for 372 pages, and long after I finished reading. Smart, absorbing, and deeply human."—Laini Taylor, National Book Award finalist and New York Times bestselling author of Daughter of Smoke & Bone
"Metaltown is a raw, heart-racing tale of kids trying to survive in a society with nothing to lose. The most intense aspect is not its grittiness, but its familiarity: Simmons has created a story that is equal parts distant, war-torn fantasy and close-to-home, classist reality. Prepare to be destroyed."—Sara Raasch, New York Times bestselling author of Snow Like Ashes
"Kristen Simmons' Metaltown is a compelling, inspiring read. The industrial setting is reminiscent of turn of the century works like The Jungle, and the characters had me rooting for rebels, fights worth fighting, and girls with gumption. By the time it was over, I had my fist in the air."—Kendare Blake, author of Anna Dressed in Blood
"A page turner. The characters absolutely stole my heart."—Katie McGarry, author of Nowhere But Here
"In her latest, Simmons paints a bleak picture of the future. [Simmons] creates multifaceted characters that are hard to dismiss. It is an unrelentingly grim place, such details as the rat meat Ty and Colin are too poor to buy bringing it to life. In this gritty tale of intrigue, corruption, greed, and human rights, Simmons offers readers a savvy take on a post-apocalyptic society."—Kirkus Reviews
"The horrors each character faces—abuse, hunger, violence, a work accident with detrimental effects—are written about in a raw and realistic way. Rife with social commentary, this gritty, stand-alone dystopian novel will keep readers engaged."—School Library Journal
Tor Teen, 9780765336651, 384pp.
Publication Date: January 2, 2018
About the Author
Kristen Simmons has a master's degree in social work and is an advocate for mental health. She lives with her husband, Jason, and their precious greyhound Rudy in Cincinnati, Ohio. Her popular books include the Article 5 trilogy, The Glass Arrow, and Metaltown.
or
Not Currently Available for Direct Purchase