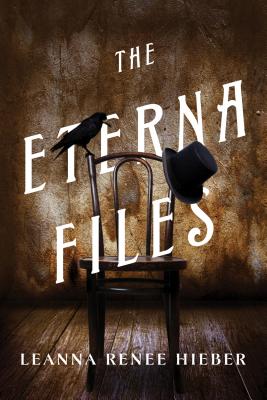 The Eterna Files
The Eterna Files #1
Hardcover

* Individual store prices may vary.
Other Editions of This Title:
Mass Market (2/2/2016)
Description
London, 1882: Queen Victoria appoints Harold Spire of the Metropolitan Police to Special Branch Division Omega. Omega is to secretly investigate paranormal and supernatural events and persons. Spire, a skeptic driven to protect the helpless and see justice done, is the perfect man to lead the department, which employs scholars and scientists, assassins and con men, and a traveling circus. Spire's chief researcher is Rose Everhart, who believes fervently that there is more to the world than can be seen by mortal eyes.
Their first mission: find the Eterna Compound, which grants immortality. Catastrophe destroyed the hidden laboratory in New York City where Eterna was developed, but the Queen is convinced someone escaped—and has a sample of Eterna.
Also searching for Eterna is an American, Clara Templeton, who helped start the project after the assassination of Abraham Lincoln nearly destroyed her nation. Haunted by the ghost of her beloved, she is determined that the Eterna Compound—and the immortality it will convey—will be controlled by the United States, not Great Britain.

The Eterna Files series
The Eterna Files
Eterna and Omega
The Eterna Solution
Praise For The Eterna Files: The Eterna Files #1…
"Hieber's formidable imagination is given free rein in this smart, boundlessly creative gaslamp fantasy. She blends historical fact and paranormal fiction with ease, creating a world that is lush and fascinatingly strange, and reveals her secrets sparingly, keeping fans on edge for more information about these intriguingly powerful characters and the ties that bind them together. Patient readers will be well rewarded for letting this haunting novel unfold around them."—RT Book Reviews (4 stars)
"Rich in conceits as anything from Alan Moore, Hieber's novel mixes action and the emotional lives of its characters into a fascinating stew. Anyone who enjoyed Paul Cornell's London Falling will certainly cozy up to Hieber's parallel depiction of questioning savants and heroes versus the forces of anarchy and despair."—Paul Di Filippo in Asimov's Science Fiction
"Extremely descriptive; the supernatural plot is intriguing. The author has offered up a rainbow of characters, from the guilt-ridden to the intellectual to the satirical, which will have readers chomping at the bit for more."—Suspense Magazine
"The alternating plotlines seem equally urgent, riddled by murders and bearing the taint of madness. Both settings take the time to introduce a fascinating array of offbeat characters (many but not all Gifted): circus performers, a few surprisingly sane politicians, strong-willed women, and male sensitives. Quests to find ways around death – whether to renew life, or find new ways to kill – keep getting stymied."—Locus
"Excellent first installment in a unique new series. Hieber expertly blends intriguing supernatural elements and interesting, quirky characters in an authentic historical setting. Readers who enjoy a skillful mixture of history and paranormal elements will be well-pleased with the terrific The Eterna Files."—Bitten By Books
"Hieber's alternate history/steampunk world is well drawn, and her characters, though numerous, are fully realized."—Historical Novel Society
Tor Books, 9780765336743, 320pp.
Publication Date: February 10, 2015
About the Author
Leanna Renee Hieber helped create the gaslamp fantasy subgenre with her first novel, The Strangely Beautiful Tale of Miss Percy Parker, which won two Prism Awards for RWA's Fantasy, Futuristic, & Paranormal Chapter. A talented actress and singer who has been seen on stage and screen, Hieber can also sometimes be spotted leading ghost tours of New York City's Central Park. Her first YA novel, Darker Still was a Scholastic Highly Recommended Title, an INDIE NEXT selection, and a finalist for the Daphne du Maurier Award. Her books from Tor include The Eterna Files, first an historical urban fantasy/gaslamp fantasy series, and the author's preferred edition of Strangely Beautiful, which contains The Strangely Beautiful Tale of Miss Percy Parker and The Darkly Luminous Fight for Persephone Parker, united as the single novel the author originally intended, revised and with the addition of several new scenes. Hieber grew up in Ohio and now lives in the New York City area.
or
Not Currently Available for Direct Purchase